Practice Buttoning with Felt Sandwich
I was inspired by making the buttoning pizza to make more food that requires buttoning. I see a whole line of fun button food in my future. Here is a sandwich that I made. It is very similar to the button snake and button oreo that I made, but it has more layers like a sandwich.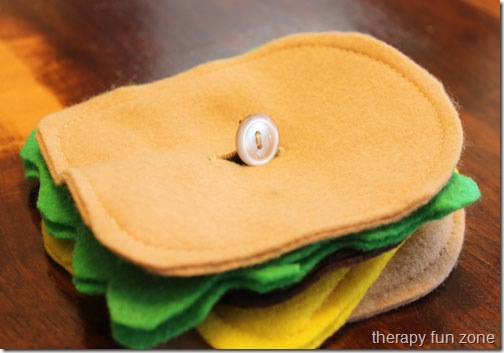 The layers that it has are bread, meat, cheese, tomato, lettuce, and bread on the top. The kids enjoy making the sandwich by buttoning the sandwich toppings on. It is great for pretend play.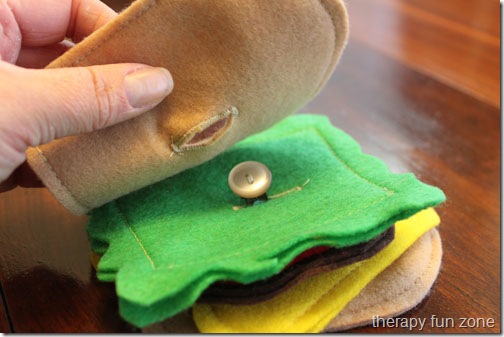 One difference from the button snake is that the ribbon is much shorter, so it can be more challenging to get the button in the holes. The ribbon is sewn onto the bottom piece of felt bread.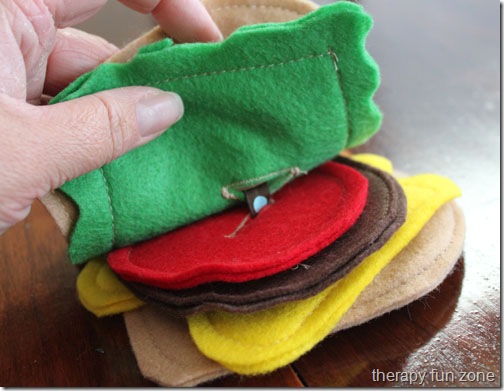 You can now order the Button Sandwich in the Therapy Fun store. Also available is the pattern and instructions to make this project without sewing. You can also find a free button oreo pattern to try out.
Materials:
Different colors of felt pieces with button holes
Ribbon
Button
Skills:
Fine motor
Bimanual
Visual perceptual
Adl
Buttoning
Save
Save
Save
Save