Home Made Table Ice Hockey Game
This game takes a bit of time to put together, but it isn't hard, and the materials are quite cheap.  I made the game originally to play in the pool, but I think that it actually works better played on a table, and I think that it would be fun to play it out in the snow too.  It is essentially like an air hockey table, but without air.  The puck can be a large piece of ice, or a ball, and the hockey paddles are pieces of pool noodle.  The hockey table is made out of a piece of plastic (I used a cheap plastic shower curtain) attached to pool noodles with duct tape.  I used the plastic so that the ice would be able to move on it easily.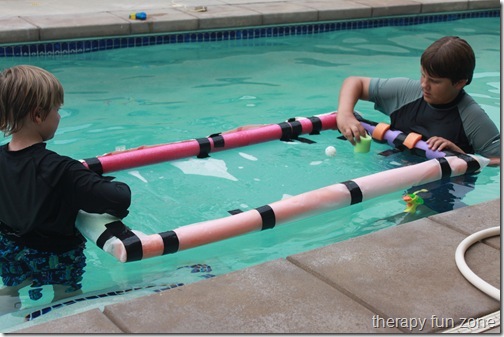 You have to make goal space out of other pool noodle pieces so that you know when someone scores a point.  The game works well using squirt guns to move the balls back and forth between goals as well.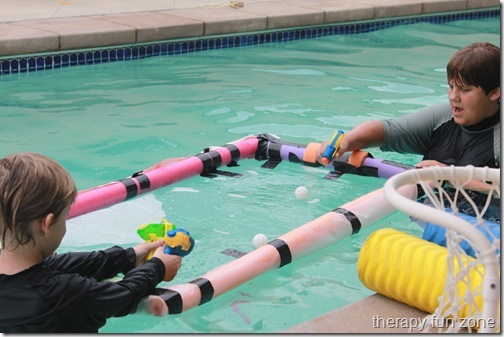 This game involves reflexes to block the ball/ice, and visual perception, as well as motor speed and motor planning.
Materials:
pool noodles
plastic shower curtain
duct tape
ice, or ball as the puck
Skills:
motor planning
visual perception
hand strength with squirt guns