Cursive Clubs: Moving Handwriting from Fine Motor to Functional!
There's no question that cursive handwriting has taken the leading role on the stage of forsaken fine motor skills.  Its glamour has paled and its loops have sagged, that's for sure.   Cursive debates have been making their rounds throughout the country.  But notwithstanding their clamor, the curly cues have retained their share of the billing.  And the casting crew still considers it a key player in the penmanship circuit.  Cursive has undergone a makeover and has reappeared in a new production.
Cursive Clubs have popped up in New Jersey, Massachusetts, North Carolina, and California.  Their members meet in libraries, schools and clinics under the caring and watchful eyes of teachers, occupational therapists and grandmothers.  Children join voluntarily and bring enthusiasm and eagerness to their group, forming friendships while they build confidence in their cursive handwriting skills.    From beginners to masters, these writers are looking for ways to use their handwriting skills effortlessly in daily life.  Cursive takes center stage in their eyes.
Handwriting is a complex skill that needs to be taught, practiced and utilized in order for it to be mastered.  Sloppy, labored and illegible handwriting are not only the results of poor or missing handwriting instruction, they are also being listed among the excuses for placing technology ahead of handwriting classes in educational curriculums.  Cursive Clubs can be the rescue for handwriting's demise if they are well planned and organized.  The success of a club, and the handwriting skills of its members, rests upon some very basic teaching practices, as well as a bunch of creativity and dedication.
Thinking of taking cursive to a higher lever by starting your own Cursive Club?  Let's explore some suggestions for an amazing Cursive Club, shall we?
Cursive Club Guidelines
1.  Determine the Focus of Your Club.  The value of a club is only as good as the quality of its focus.  Handwriting skills are built upon fine motor, visual and physical skills that are learned and enhanced only through the attention that is paid to their development.  It is vital that you recognize and determine your level of knowledge about these foundational skills as you consider the focus of your club.
There are three levels from which a cursive club can form:  (1)  Beginning, (2) Intermediate and (3) Mastery.
The Beginning Club addresses the needs of students who have not been exposed to cursive at all or those who possess only a limited knowledge of it.  Club leaders interested in providing the initial skills of cursive handwriting would benefit from formal handwriting program instruction.
The Intermediate Club hones the skills of children who have been exposed to cursive handwriting instruction and are interested in increasing legibility and fluidity in preparation for its functional use.  Leaders in this area would benefit from online and telephonic support resources offered by their selected handwriting program.
The Mastery Club provides opportunities for students to put their cursive skills to the test in functional activities.  Club leaders offering this form of group would be able to draw from their experiences and online resources for program development.
The focus of your club is the "hub in the wheel," so to speak, forming the stability for its success.
2.  Consider Ages and Developmental Levels.  In order to cultivate your group into a "Club," it is important to include socializing as a goal in your planning.  Clubs are meant to be fun, enriching and social.  The maturity level and needs of children in various age groups are important considerations as you decide upon your goals and strategies.  Equally important are the handwriting development levels of your participants.  Students can come to the writing table with a diverse array of skills despite their chronological ages.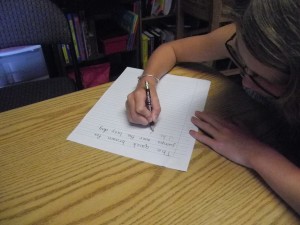 Matching participants for group membership can be easier with the use of a handwriting screening tool.   This can be as simple as asking the child to write each upper and lower case letter in alphabetical order, copy a sentence from the page (such as "The quick brown fox jumps over the lazy dog."), and write a sentence from his own thoughts.  The results will guide you in club placement and allow you, the student and the parents to determine if your club will meet the child's needs.
After assessment and careful consideration, you can match age needs with developmental levels.
3.  Know Your Handwriting Program.
A well-planned Beginner's Club must have a structured handwriting program.  However, the particular program that you choose is not as important as your familiarity with it.  Do your research on the Internet and among your colleagues and friends.  Ask teachers and occupational therapists about the programs that they have found successful.  Handwriting program representatives can explain and discuss the benefits of their specific training and resources relative to your needs.  It makes sense to take the time to find a program that fits within your financial resources and that can support your personal skill level.
For the Intermediate Club, knowledge of the programs taught in area schools can help guide your search for training and program selection.
Students in the Mastery Club will benefit from your general knowledge and proficiency in cursive handwriting, allowing you to choose an appropriate handwriting program to enhance your teaching and cursive skills.
One of the most important facets of teaching is knowing your subject matter well.  Handwriting programs offer training that will provide you with the foundational principals and strategies that will guide your club's sessions.
4.  Develop Solid But Flexible Session Plans.  Every group needs direction.   And effective teaching depends upon a well-organized plan.  Cursive Club session plans should be developed based upon the group level and handwriting program that you have chosen for your club.
Your

first task

in session planning is to decide where you will meet.  Depending upon whether your club will be offered on a free or fee basis, you can consider the local library, a school, a community center or a pediatric clinic.  It is important to provide a space that encourages learning and offers opportunities for movement activities.
The

next step

is to decide on the length of your group's duration.  Weekly meetings would provide the optimal benefits by offering quick feedback and consistent practice.  The duration options include a pre-determined amount of weeks (8, 12 or 16, for example), a school semester, a school year, or a summer vacation period.

Finally

, it is time to sit down and draw up a formal plan for each session.  A recommended sequence for activities begins with (a) a gross motor activity to awaken the large muscle groups (such as wall pushups or musical chairs, depending upon your age group), (b) moving into a visual motor activity to get the eyes and hands working together (Legos or putty, for example), (c) working on fine motor skills (the handwriting portion) and (d) ending with self- and/or group assessments.
Every plan needs to be flexible, however, as you let the students' needs guide your group's direction.
5.  Use Creativity Freely.   Clubs, in order to flourish, should be designed to draw members into the group, drive them to continue their connection with it, and encourage them to spread the word about their club.  Variety and creativity will make your club exciting and can be presented in several ways:
Sessions that include movement activities provide opportunities for members to get to know each other in a "playful" environment.  Simple ball toss games or beginner yoga poses can engage the "giggle factor" at the beginning of a session.
Hands-on projects that do not involve handwriting can foster creative thinking skills when they are linked to the cursive portion of the session.  For example, the members can cooperatively build a Legos structure from which they compose a story.  An added dimension would call for each member to write a consecutive sentence in the story on a poster board on the wall, coming up with something silly while they practice their cursive skills.
Functional handwriting skills can be introduced as they write letters to a friend or family members (envelopes included), prepare a grocery list of their favorite foods, fill in a telephone message form, write accurate directions for a recipe, and, in the end, complete a Cursive Club evaluation form!  The members can come up with some very creative ideas for future club meetings!
If you are interested in forming a Cursive Club, I have offered a Free Starter Package of downloadable forms and ideas on my Handwriting With Katherine Links and Resources Page.  I hope that you find them helpful!
Cursive is certainly a hot topic of discussion.  But it is not dead.  Cursive Clubs are just beginning to take star billing.  Do you know students that would like to be among the first stars?
Katherine J. Collmer, M.Ed., OTR/L, is a pediatric occupational therapist who owns and operates a clinic that specializes in the assessment and remediation of handwriting skills.  She can be contacted via her website, www.handwritingwithkatherine.com.

Disclaimer: The information shared on the Handwriting With Katherine website, blog, Facebook page, Twitter page, Pinterest page or any other social media is for general informational purposes only and should not be relied upon as a substitute for sound professional medical advice or evaluation and care from your physician/medical team or any other qualified health care providers. Therefore, the author of these links/posts take no responsibility for any liability, loss, or risk taken by individuals as a result of applying the ideas or resources.