Movie Review of A Mile In His Shoes
Something a little different today.  I was given the opportunity to watch a movie that will be coming out in DVD next week.  I jumped at the opportunity because it is a movie about a boy with Aspergers.  The movie is called A Mile in His Shoes
, and is being released on DVD on January 10.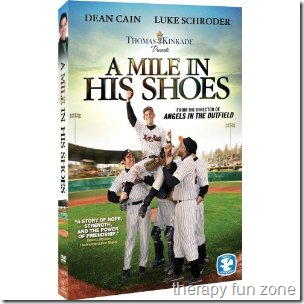 The description of the movie from Amazon is:
Only a miracle can help baseball coach Arthur 'Murph' Murphy (Dean Cain) and his losing minor league baseball team. As Murph sets out to recruit new talent for the team, he stumbles upon Mickey (Luke Schroder), a young farmer with an incredible pitcher's arm. However, Mickey's parents are reluctant in allowing him to join the team because he has Asperger's syndrome, a form of autism. Murph convinces Mickey's parents that life in the minor league will benefit their unique son, but he doesn't realize just how much his new recruit will help the team's game and, more importantly, their spirit. Based on a true story.  A Mile in His Shoes is an inspirational film that celebrates faith, determination and the power of friendship.
My 10 year old son's review of the movie is that it was much better than he expected it to be.  I think he was expecting a documentary because I didn't tell him what the movie was about.  He said it was sad at times, but he enjoyed it. I tried to get him to give more of a review, and he was a bit resistant, so there you have it.
My husband's response to the movie was that it was terrific, and one of the best movies that he has seen in a while.  He is a total sucker for feel good sports movies, and that is exactly what this movie delivers.  The characters are very well played, and I think that Luke Schroder does a very good job portraying a boy with Aspergers.  There was a little sappiness going on at the end, but it was very good.  Some bad things happen, which is inevitable in a movie and in life, but they get past it, and it has a great ending.
This movie is based on a true story, and is based off of the book The Legend of Mickey Tussler: A Novel
.  It looks like there is a sequel to the book that has not come out yet as well, which is Sophomore Campaign: A Mickey Tussler Novel
.
All in all, this movie is a great movie that shows how we can work together and it's ok to be different.  I think that it is a good movie for kids and teenagers to watch to see differences and to see that you can be friends with people who are different.  I also like that one of the take-away lessons is that kids need to experience and live their life.  You can't hide them away and protect them from the world if they are different.  As parents, we need to let them get out there and do things that they enjoy and that they are good at, and we need to let them get away from us in order to grow.