Pond Jump Fine Motor Game With Munchy Ball
I have been doing a lot with Munchy Ball and realized that he could easily be incorporated into games the same way that I use clothespins in games. Munchy Ball is a ball with eyes, and a mouth cut into it that opens his mouth when you squeeze the ball. It has great resistance to work on hand strengthening while putting things in its mouth.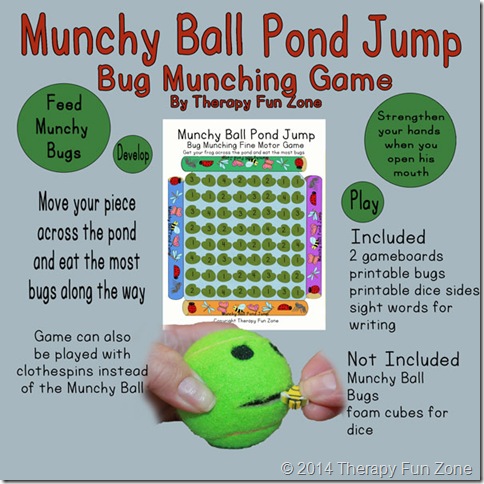 I made the pond jump game because the mini insects
are the perfect size for Munchy Ball to eat, and eating insects just makes sense in a pond. Right? The game is essentially a pond with lily pads all over it. The objective is to move your game piece across the pond hopping on the lily pads. Each lily pad has a number on it, and the number indicates how many bugs your Munchy Ball gets to eat.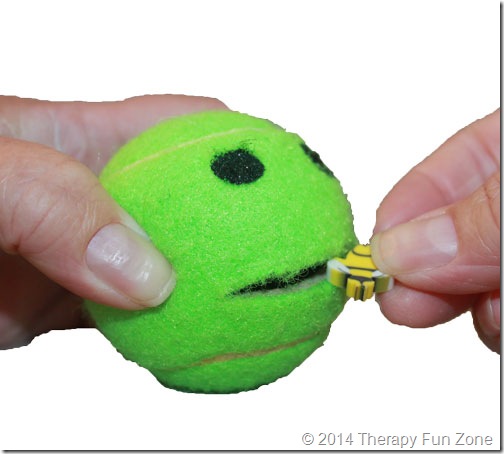 To move across the lily pad, you roll a dice that has numbers and a bird on one of its sides. If you roll the bird, you have to take one of your bugs out of your Munchy Ball.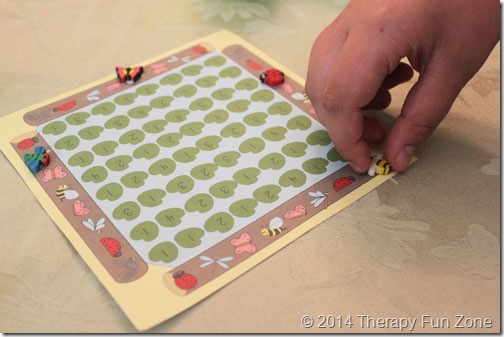 This one can be played as is, but I have the kids pick a word that they have to write after they feed their Munchy Ball. That way they are working on memory and writing skills along with hand strengthening. I have also included some frogs and insects that can be printed and cut out so that the game could be played using clothespins instead of the Munchy Ball. You just clip the bugs to the frog instead of feeding them to the Munchy Ball. The game comes with two game boards; one is regular, and one has colored lily pads. The colors on the lily pads correlate to colored backgrounds on the printable bugs, so kids can practice picking colors if that is a skills that needs to be worked on.
Materials:
Skills:
Hand strengthening
Fine motor
Visual memory
Save


The following two tabs change content below.
Tonya is a pediatric Occupational Therapist, and loves creating things to work on skills and solve problems.
Latest posts by Therapy Fun Zone (see all)