What I Hate About Your Blog
I now have a few years of blogging experience under my belt, and I follow a lot of blogs. I have therefore developed an opinion about what I like and don't like about a blog's format, etc., so here is my opinion about Your blog.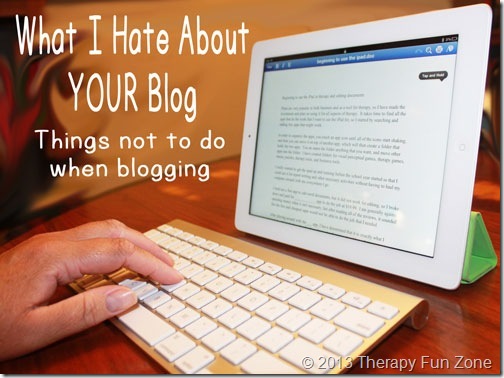 I hate it when your blog only has an exerpt in the RSS feed.
I have a lot of blogs that I read in my RSS reader. Rarely does a post interest me enough through its exerpt to get me to click through to the actual blog. When I can read the whole post, I will often love it enough to then click through in order to share it on pinterest and facebook. An exerpt usually doesn't make me love it.
I hate when I can't find links to your pinterest or facebook pages.
I try to share a lot, but you have to make it easy for me.
I hate when I can't find a link to content.
When I find a blog that I love, I want to read more. You have to make it easy for me to find more.
I hate multiple shares on facebook by you about the same blog post.
Technically this one isn't about your blog, but it does relate. I actually probably don't even "like" your blog's facebook page because I don't want to clutter up my facebook feed. If I want to follow your facebook page, I have probably added it to my list of pages (here is the list of OT pages), and I see EVERY post that you make. I don't need to see the same one over and over again (hence the reason I don't "like" your page).
So those are some things that I hate about your blog. What are some things that you hate about mine?

Looking For More? Try these categories
The following two tabs change content below.
Tonya is a pediatric Occupational Therapist, and loves creating things to work on skills and solve problems.
Latest posts by Therapy Fun Zone (see all)