I was given a trial of the Rainbow Sentences App, and want to share how I used it and how it worked for me. I used it with a student who really struggles in all areas of reading and writing sentences. In the app, you are given lines that make up a sentence, a picture of what is happening in the sentence, and then jumbled words. It is your job to drag the words from the jumble up to the lines at the top and put them on the right line to create the sentence.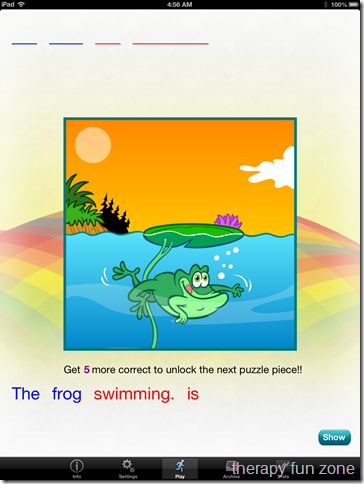 At first my student placed the words randomly in the spaces, and I realized that he hadn't attempted to read them first. Once I figured that out, I helped him read all of the words first and then he could try to decide how to make them into a sentence. Once he figured that out, then I let him move the words to the right spaces and complete the sentence.
I then had him read his sentence, try to remember the sentence (something he struggles with), and write down the sentence on paper from memory. He remembered the words he needed to write, although not always the spelling of the words.
For OT writing activities, the rainbow sentences app can be used as a fun sentence generator to help with reading, how to put a sentence together, and for writing out the sentences. You don't actually write in the app, but can just use good old paper and pencil. I think that I will be using this app quite a bit while working on letter formation and writing skills in general. I may even place the iPad across the room and have the kids scooter board to it, then scooter board back when it is time to write on paper.
The app is created by Mobile Education Store, and they make many more apps designed for speech therapy, but can be be used for Occupational Therapy too.

Looking For More? Try these categories
The following two tabs change content below.
Tonya is a pediatric Occupational Therapist, and loves creating things to work on skills and solve problems.
Latest posts by Therapy Fun Zone (see all)