Playing plinko to work on hand strength and writing
Last month, I put out a call to have other therapists share creative ideas using crazy cubes. I did this because I saw a lot of potential for these little toys to work on fine motor skills and hand strengthening, but I thought that there should be more to them that the basic pushing and shooting. I played with them with some students, thinking that they may come up with some creative uses for them, but we just shot them through slots, trying to hit the pigs from angry birds. It was fun, and a good activity, but I wanted something more interesting.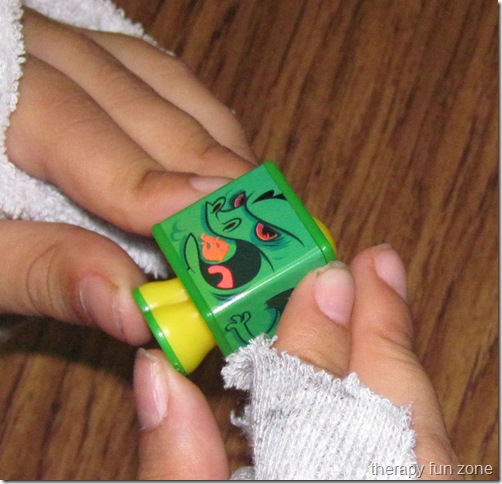 I thought long and hard about what we could shoot them at that could incorporate other aspects of therapy, and I came up with a plinko game that I made out of a box and some cut up straws that I glued in place using hot glue. At the bottom of the box, there are sections, and I wrote some letters on pieces of paper and placed them in each section.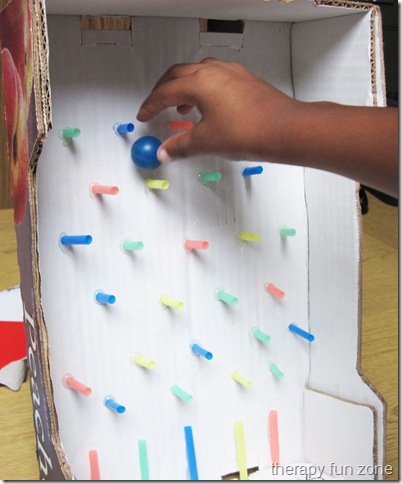 To play the game, we had to position the plinko box at the right angle so that when we shot the crazy cubes at it, they would stay in the box rather than bounce out. The students then took turns shooting their crazy cubes into the plinko box, and the little balls would bounce around and eventually land in one of the slots at the bottom. The letter in the landing slot was then the first letter of the word that my students had to write.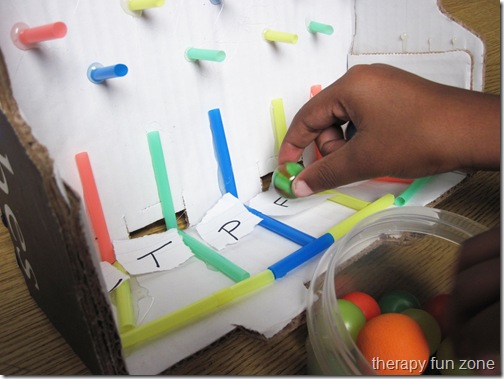 This game was quite fun, and worked on a lot of different skills. There was quite a bit of turn taking going on, finger strengthening while using the crazy cubes, visual motor watching the ball go down the plinko board, and fine motor with writing the word required. It turned out to be a great activity that I will do frequently. I did this again with another student, and forgot the crazy cubes, so we just used marbles. We achieved most of the skills, although the crazy cubes are another layer of fun and challenge.
Materials:
Box
Straws
Hot glue
Crazy cubes or marbles
Skills:
Finger strengthening
Visual motor
Fine motor

The following two tabs change content below.
Tonya is a pediatric Occupational Therapist, and loves creating things to work on skills and solve problems.
Latest posts by Therapy Fun Zone (see all)