Using the Sentence builder app for practicing writing
I was given the sentence builder app (by Mobile Education Store) to try out, and at first I tried to use it the way it was meant to be used. The way the app works is that a sentence is on the screen along with a picture that the sentence is describing. You have to choose from some different words in order for the sentence to be correct.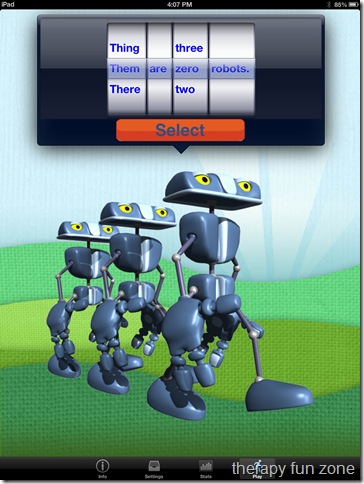 My student had a really hard time picking the right words, and he just tried to choose them randomly. I decided to change it up for him and had him choose the right words after I read the sentence options to him. This was better for him, and then he had to write the sentence out.
I will definitely be doing this again to help with generating and writing sentence.


The following two tabs change content below.
Tonya is a pediatric Occupational Therapist, and loves creating things to work on skills and solve problems.
Latest posts by Therapy Fun Zone (see all)