Crazy Cubes bowl and write
I put out a challenge a couple of weeks ago to have people send me ideas of ways to use Crazy Cubes
in therapy.  They just seemed to lend themselves perfectly to therapeutic activities, but I wanted more than just what I would come up with.  I was going to compile all of the ideas into one post, but this activity was sent to me so complete that it can easily stand on its own, so I will be posting several posts on how to use the Crazy Cubes.  This activity was provided by Lisha.  Thank you.  And it is not too late to send me more activity ideas. 
Here is Lisha's post.
Over 1/2 of my students are boys. It is always great to find an idea that they enjoy. I love to figure out ways to make our therapy sessions fun so then they don't even mind that there is the added benefit of learning, strengthening and growing. I promptly went out and bought the cubes and while there picked up a few heroics to add to my chopstick/clip pick up.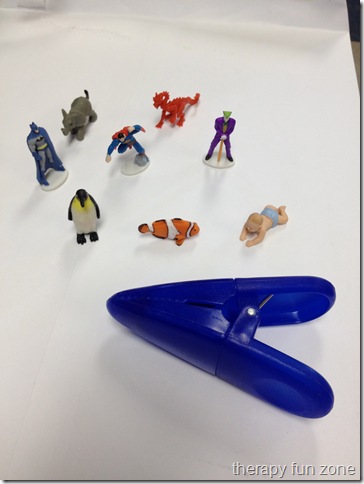 Back to the cubes.  I figure I already bought 2 cubes for $5. plus change, so what can I use that I already have? How about pencil top erasers.  OK, so I set them up and knocked them down. Really pretty easy. But not real challenging for some of my more competitive kiddos. (They always want to beat me at something). I could use 10 and do bowling.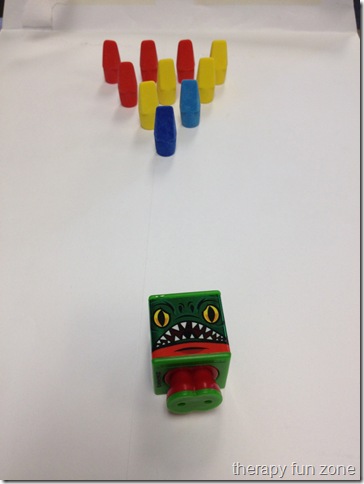 Not bad, but how to make it more educational. Keep score? yes, but what about handwriting. So inside the eraser is a little piece of paper, ooh, hard to get out, really work those fingers.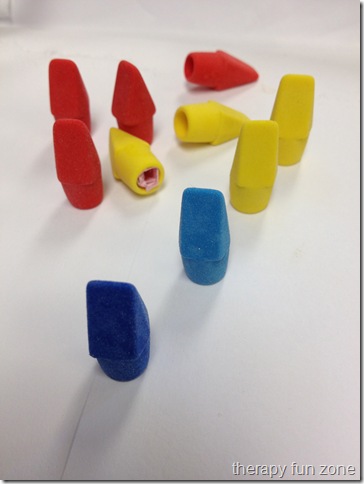 On the paper, (depending the level) is, 1). a letter to practice, 2). a letter, now you write 3 words that begin with that letter, or 3). a sentence, or a word and you write a sentence with the word.  You can do anything. It could be a gross motor activity or it could contain numbers and they have to add them up.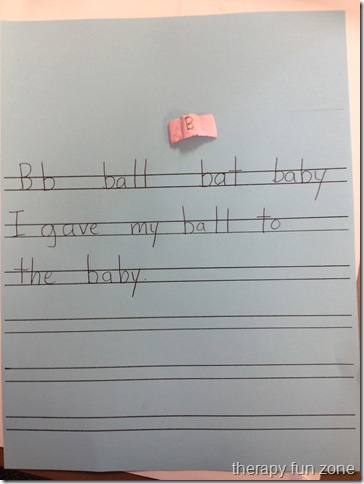 Thanks for asking! I love my job.
Materials:
Crazy Cubes
pencil cap erasers
paper
pencil
Skills:
fine motor
hand strengthening
bimanual skills
handwriting

The following two tabs change content below.
Tonya is a pediatric Occupational Therapist, and loves creating things to work on skills and solve problems.
Latest posts by Therapy Fun Zone (see all)