I have a new activity for my bouncy balls to participate in.
I stuck five golf tees into a piece of rigid Styrofoam, and then had kids balance the bouncy balls onto the tees.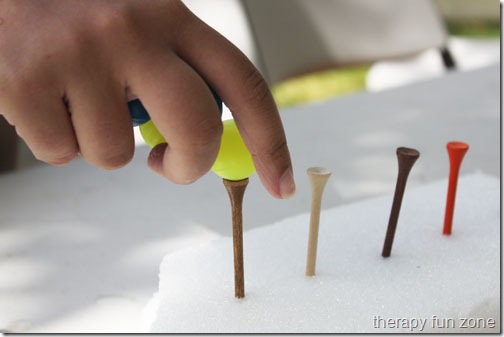 You can increase the challenge by holding multiple balls in one hand, and putting the balls on the tee at the same time. This requires some skill at in-hand manipulation, which gets the two sides of the hand doing different jobs. The pinky side is holding the balls while the thumb side is placing the balls.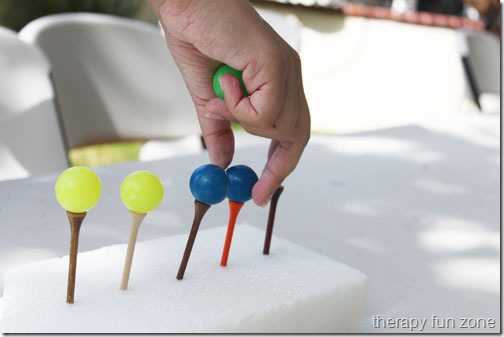 When we write, we close the pinky side of our hand to stabilize it while the thumb side of the hand works the pen. Doing in-hand manipulation activities helps differentiate the function of the two sides of the hand and helps with control and writing ability.
Materials:
Golf tees
Bouncy balls (or marbles)
Styrofoam
Skills:
Fine motor
Dexterity
In-hand manipulation
Finger strength
Looking to find printable activities? You can find them in the community shop



**** I often will link to things on Amazon. These are usually affiliate links that will pay me a couple of dollars if you happen to buy something while there. Any money made through the Amazon links goes back into this site and helps us keep it going. Thank You.
The following two tabs change content below.
Tonya is a pediatric Occupational Therapist, and loves creating things to work on skills and solve problems.