I have been doing this sentence memory activity periodically with a small group of kids. I decided to do it again and add the challenge of chopsticks
along with the sentences. To summarize, I have the sentences typed on a piece of paper, and the words on pieces of foam with magnets on the back.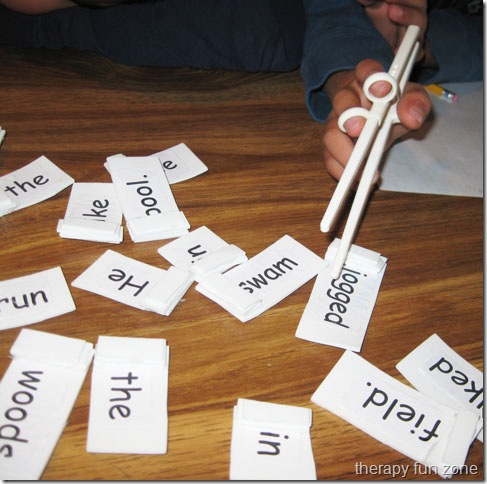 I show the kids the sentences, and then cover up the sentence. They have to then look at the words on the table and pick them out in the right order with the chopsticks, and place them on the magnetic white board.
I have done a little test with one of the students, and had him try to write the sentence right after I showed him the typed sentence. He could not remember the whole sentence in order to write it. After he searched for the words and placed them on the white board, I hid the sentence again, and he was able to wrote it. Working out ways to help the kids be able to copy from the board easier.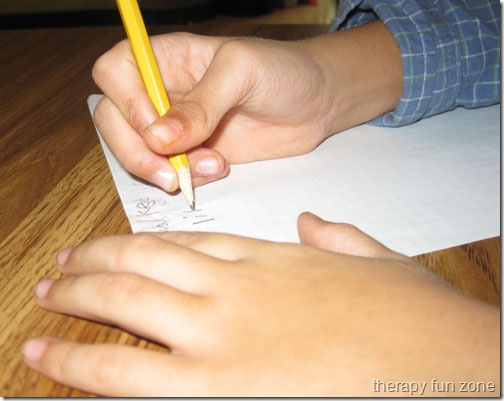 Materials:
Skills:
visual memory
handwriting
fine motor
visual perceptual
Looking to find printable activities? You can find them in the community shop



**** I often will link to things on Amazon. These are usually affiliate links that will pay me a couple of dollars if you happen to buy something while there. Any money made through the Amazon links goes back into this site and helps us keep it going. Thank You.
The following two tabs change content below.
Tonya is a pediatric Occupational Therapist, and loves creating things to work on skills and solve problems.