5 Ways to Help Children who Have Tactile Defensiveness
This is a guest post by Kimberly Z Syers OTR/L-  BabyOT.com
As a Pediatric Occupational Therapist, I work with children with tactile defensiveness on a daily basis. These children are hypersensitive to tactile (touch) stimulation and frequently find ordinary textures/touch sensations (like clothing tags, hugs or grass) to be overwhelming or even painful. These children may avoid or refuse to participate in "messy" play activities and this avoidance can impede learning and development.  Parents and caregivers are eager to help but often are unsure of where to start.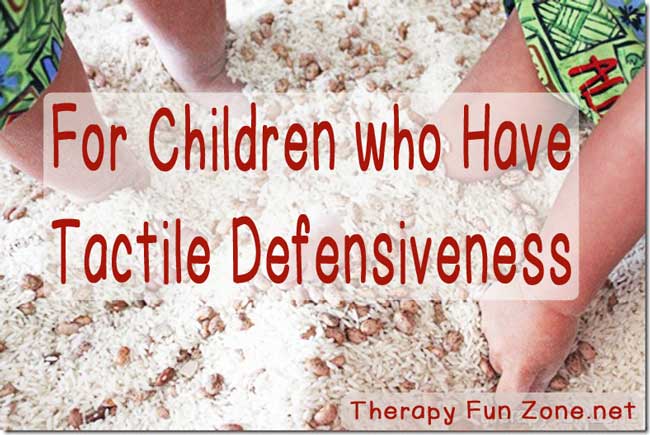 Here are 5 ways to help children with tactile defensiveness:
Explore new textures at their pace-
When working with children with tactile defensiveness, we must follow their lead while exploring new textures or textures that they find aversive.  Allow the child to use a spoon, paintbrush or utensil while exploring. This is a significant first step which can help children to become more accustom to a sensation that isn't tolerated well, and thus is the start of desensitization. If we begin by insisting that they immediately touch the paint or sand (or whatever it is) they will likely withdraw completely.
Give choices and set a timer-
Before the start of a messy play activity, give the child a choice between two or three play options. For example, ask them if they would like to do playdough, sand play, or painting. It is also worthwhile to let the child know how long the activity will last or set a timer. Remember, children with tactile defensiveness are often fearful of these sensory experiences; as parents and therapists we must be mindful of this. Giving choices and setting a timer allows children to feel more at ease and in control.
Provide Proprioception/Deep pressure input-
Provide proprioceptive sensory input before, during and/or after tactile play. Proprioceptive sensory input can be calming because it provides us with information about where our body is in space and helps with tactile desensitization (proprioceptive input is also known as deep pressure input- beanbag chairs, large or weighted stuffed animals, heavy work activities, joint compressions, and lotion massage all provide this type of sensory input). Proprioception helps to decrease over-responsiveness to other types of sensory input (whether it be tactile, auditory etc.). It is sometimes referred to as the body's natural tranquilizer because of this regulatory effect.
Buy seamless shirts, socks and other clothing-
Seamless clothing is a must have for many children with tactile defensiveness, specifically those who are hypersensitive to clothing liners and tags. If your child is hypersensitive to just clothing tags, another simple option is to cut them off. Slip on shoes without tight laces or fasteners are also helpful for those children unable to wear traditional shoes or sneakers. These small changes can help children become more physically comfortable, which allows them to better participate in daily activities.
Occupational Therapy!
Children with tactile defensiveness that interferes with everyday life may need Occupational Therapy (OT). Occupational therapists help children become less sensitive to tactile stimulation (through tactile desensitization) and can also assist children with their overall sensory processing. With the help of an OT, children with tactile defensiveness are able to better function and participate in everyday tasks.
Always talk to your child's pediatrician and/or Occupational Therapist before trying any new sensory activities if your child has severe responses to them.  To learn more about Occupational Therapy and sensory processing check out www.babyot.com , like us on Facebook www.facebook.com/babyotsensory  and follow on twitter https://twitter.com/babyOT_sensory