I am working on doing a feeding group and integrating some simple food play/cooking/interaction.  With the population that I am working with, there will not be a lot of full blown cooking involved, but we will have fun with food.  We will play with messy food, and make things out of food materials.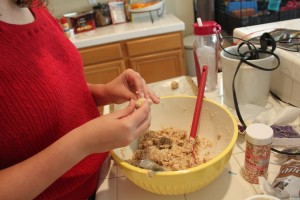 In my internet wanderings, I came across a website devoted to cooking with kids, and I may use some of their recipes.  They have some e-books about kids cooking classes and kids cooking camp.  I will see what I use.  There is also a blog on her site, and a lot of free recipes and cooking ideas.
As I do my cooking/fun with food groups, I will post more about it.