Cutting with a knife and fork
Cutting with a knife and fork is more difficult than many people realize.  It requires good knife grip and positioning, which involves motor planning.  You must also exert the right amount of pressure on the knife, which involves sensory perception.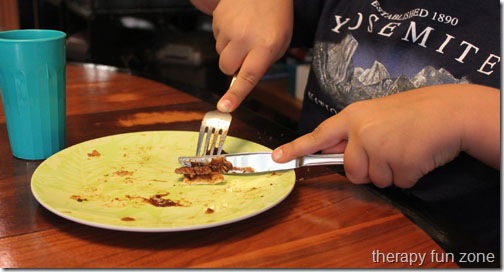 Good toys for working on cutting with a knife are those Wooden Cutting food toys
that are velcroed together and you have to cut them apart.  They provide the resistance required to work on putting enough pressure on the knife to cut through the resistance of the food.
Materials:
Knife
Food
Toy cutting food
Skills:
ADLs (feeding)
Cutting with a knife