I was invited to join the DC Comics Fan Families for an event that they were holding this summer during the San Diego Comic Con.  I only participate in events if they can relate to therapy in some way, and I found several items at the DC Comics event that I could share.  The DC Comics Fan Family site has some fun coloring printables, apps, discounts, and other give-aways all related to DC Comics.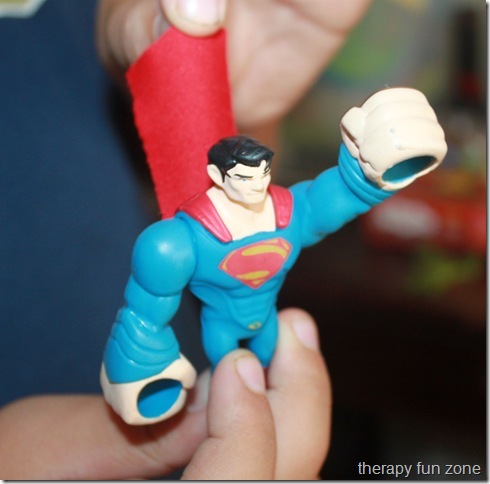 They had some fun stretchy flingers (DC Comics Quick Shots figures) that I had a lot of fun shooting at a target, we played a new Wii-U game, and a new game that incorporated some motor activity.  At the event, we received some DC Comics toys to take home, and I have an extra set available to give away to one of you.
DC Comics Fan Family Giveaway Items:
LEGO Batmobile set
DC Comics Super-Pets book
DC Comics Super-Pets luggage tag
DC Comics Quick Shots figures by Mattel
Batman Blaze Buster toy by Mattel
DC Comics Face Off Dice game by Wonder Forge
Pack of DC Comics themed bandages by Nexcare
Batman Action Figure
Of course, the Legos are always great to work on bimanual and fine motor skills, but my favorite toy is the superman DC Comics
Quick shot figure
.  This thing is fun to shoot, requires strength and bimanual skills to hold onto and pull it back to shoot.  I must say that I am a great shot with these.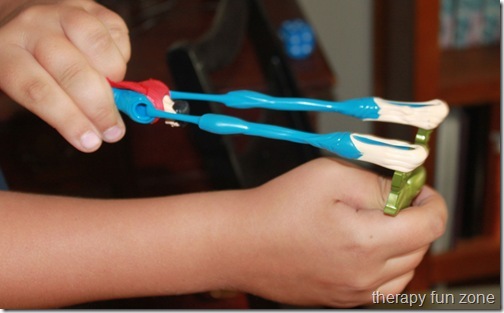 I made some targets to give something to shoot at (as our flinger did not come as a set), and you could even add some scores and writing task to each of the targets so that you complete the task on the target that you knock down.  I thought that monster targets would be appropriate to have a super hero knocking down.  You can just print them, cut them out, laminate them and tape them together.
After playing with the fun flingers at the event, we got to try out a new video game on the Wii-U that is coming out in September.  The game is
Scribblenauts Unmasked – A DC Comics Adventure
, and the cool thing about it is that you can write or type onto the controller and then the item that you wrote comes into the game for you to use.  This makes it a great game for practicing writing or typing because you then have the visual manifestation of your written words appear.  It's fun too.  In the game you can also create your own super hero by dragging different super hero parts together.
My son loved playing the game, and has plans to save his money to get the DS 3D version when it comes out.
If you would like to win the listed DC Comics games and activities, enter the rafflecopter below.
Do you have a favorite comic book character?