In hand manipulation skills using broken crayons
In order to work on in-hand manipulation skills with some kids, I decided to use little pieces of broken off crayon.  I had them hold two crayons at the same time, one in their palm, and one in their fingers.  Then I had them draw a shape (I had circles and rainbows) with one color, manipulate the crayons in their hand to switch to the next one, and draw with the other color.
This was a challenge for all of the kids that I worked with, and I thought it would make a great home activity for the kids to do over school breaks.  I made some circle paper, and some rainbow paper, and I made a home program explaining what they were supposed to be doing.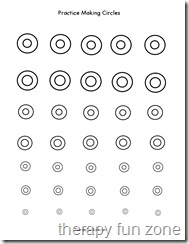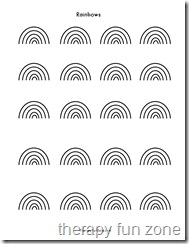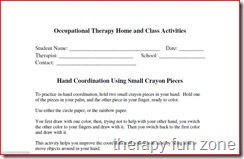 Material:
Skills:
Fine motor
In-hand manipulation
handwriting
Save

Looking For More? Try these categories
The following two tabs change content below.
Tonya is a pediatric Occupational Therapist, and loves creating things to work on skills and solve problems.
Latest posts by Therapy Fun Zone (see all)