Playing in mud is a great sensory and tactile activity, but it can be very messy. This "clean mud" activity gives a similar sensation to regular mud, but you come away from the activity cleaner than when you started.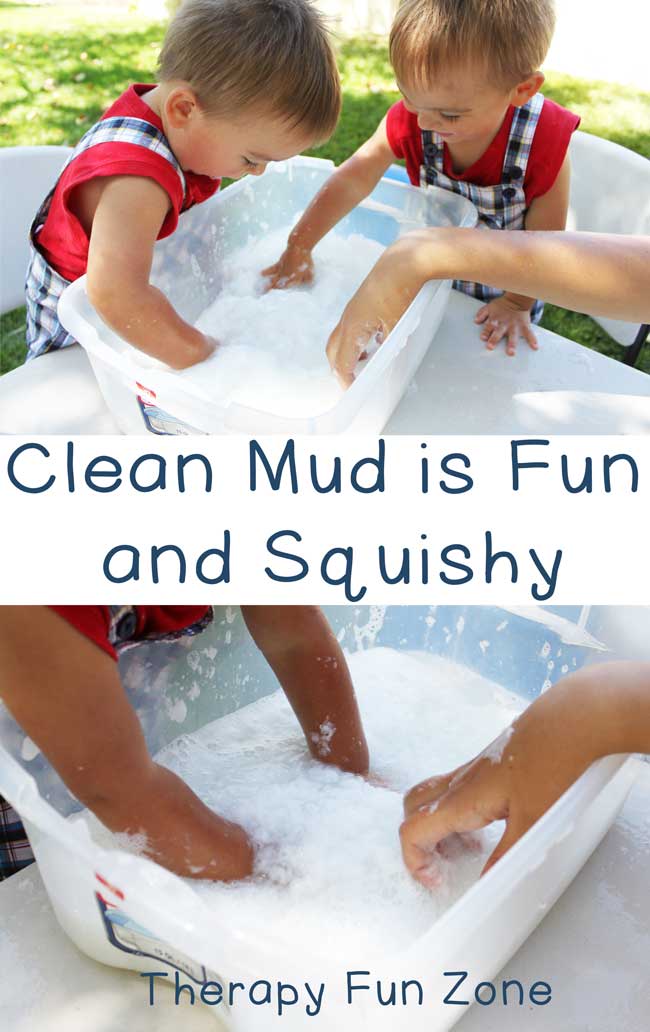 You need a plastic tub or bucket with a couple of inches of water. You add a squirt of dish soap, and then start adding pieces of toilet paper. As you play in the water and toilet paper mixture, the paper shreds apart and mushes in the water, and the solution gets slimy and mud like. It is similar to making paper mache.
Be aware though that this activity is best done outside because it is wet and messy even though it is "clean".  You can make it in different consistencies, depending on how much water you use.  We made a very mushy and wet version, but less water can be added to make it more like the consistency of play dough.
Some kids will probably hate the feeling of the paper goop, and this clean mud could be made in much smaller amounts to be played with in small doses. You could make it in small Tupperware type bowls so that it is not as overwhelming.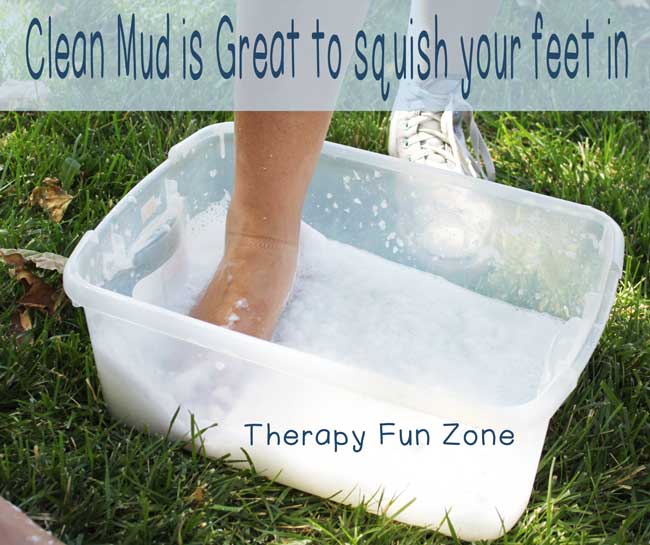 You could easily add another layer of therapy on to this activity by putting sponges and squirt toys in the water and do some hand strengthening along with the tactile play.  We decided that we had to feel it on our feet too.  Make sure that you have a layer of Olfactory senses involved by picking a soap that has a good scent to it or adding essential oils to the mixture.  My favorite essential oil scents to add are Citrus Fresh, Lemon, Grapefruit, and Peppermint.
Enjoy getting clean and messy at the same time. I would love to hear how the kids like it.
Materials:
Plastic bowl or container
Water
Toilet paper
Dish soap
Essential Oils (optional)
Skills:
Tactile desensitization
Sensory
Range of motion
Hand Strengthening

The following two tabs change content below.
Tonya is a pediatric Occupational Therapist, and loves creating things to work on skills and solve problems.
Latest posts by Therapy Fun Zone (see all)