Toddler age Potty Training Tips
Here are some tips that have helped me with potty training both my own kids and some of the kids that I have worked with.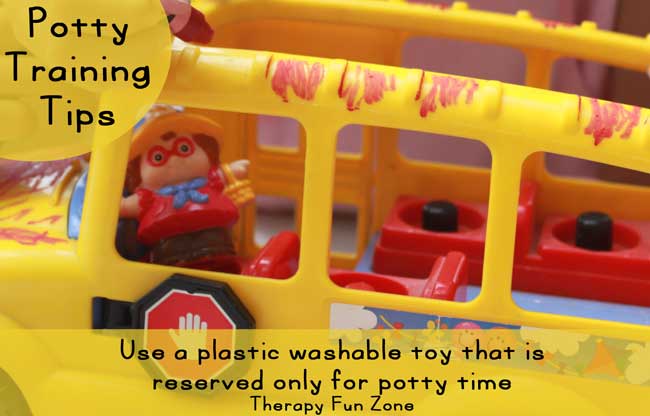 Naked Time
· Have some "naked time" at home when able to be well supervised. You want your child to feel what is happening and feel the sensation of getting wet. Wearing a pull-up or diaper all of the time makes it difficult to associate the sensation of wetness to how it happened.
Special Potty Toy
· Have your child pick out a special, easy to clean toy that becomes the potty toy. This toy can only be played with when sitting on the potty. If, by chance, your child peed in the potty, then the special potty toy can come out for a short period of time, such as 5, 10, 30 minutes. Then it goes back to the potty to be ready for the next time.
Create Benefit to using the potty
· You need to make it more fun to go to the potty than to keep playing and pee in the pull-up. One way to do this is if your child is playing with a toy, and pees in his pants, then the toy has to be put away. If on the other hand, your child tries to go to the potty (whether he is successful or not), then he can go right back to playing with the toy.
Sit Backwards
· Another way to make sitting on the potty fun is to sit reversed (facing the back of the toilet) and draw on the back of the toilet using washable markers. They will clean right off of the ceramic toilet back.
Here is a printout of tips for potty training.  If you would like to read more, this book on Potty Training Boys
has gotten good reviews, and looks like it has some good advice in it.  There is a whole slew of potty training
stuff on Amazon.