4 Water Activities for Kids with Autism
Summer is here and it is time to be in the water.  This is a guest post by Vee Cecil about water play and children with Autism.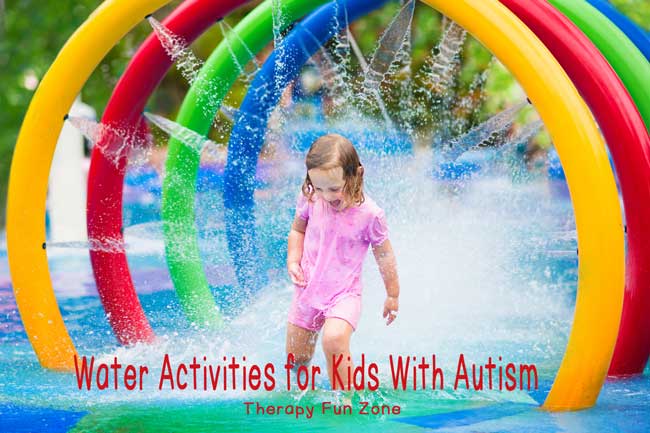 Photo credit:  Dollar Photo Club  –  famveldman
Many children with autism are drawn to water. Sadly, this fascination can endanger their lives. Combined with a tendency to wander, it is one reason why drowning is a top cause of death for children with autism.
Of course, the best way to protect children with autism is to make sure they understand water safety and the fact that water can be dangerous for them when certain rules aren't followed. If you're looking for ways to help your child enjoy water while also staying safe, here are a few options:
Try aquatic therapy. If your child is growing bored with traditional therapies, aquatic therapy is one way you might spice things up. This all-inclusive piece on aquatic therapy for children with autism provides information on why aquatic therapy is such a great choice for kids with autism. It has many benefits, including stress relief, quality of life improvement, self-esteem improvement, and more.
Start swim lessons. If you've avoided signing your child up for swim lessons because you didn't think they could be successful in a traditional class, try one that is tailored for kids with special needs.
Play games that involve water. If a rainy day pops up or you aren't able to get to the pool for another reason, play a game that uses water and take the opportunity to discuss water safety rules with your child.
Go to a water park. A day trip to a water park can be a lot of fun for the whole family and will provide your child a chance to strengthen their swim skills. If you're worried that your child might be overwhelmed by a water park,  some water parks offer special days for families with children with special needs.
Swimming and playing in the pool are great forms of exercise for kids with autism. And every second they spend in the water helps them strengthen their swimming skills, which provides an essential way for them to be safe in and around water.
---
Vee Cecil loves studying wellness and sharing her findings via her recently-launched blog. She is a wellness coach, personal trainer, and bootcamp instructor who lives in Kentucky with her family.
Guest posters opinions are not necessarily that of the Therapy Fun Zone site.


The following two tabs change content below.
Tonya is a pediatric Occupational Therapist, and loves creating things to work on skills and solve problems.
Latest posts by Therapy Fun Zone (see all)