Loopeez 2 color laces and Give-away
I have done several posts on tying shoes; shoe tying methods, tips and tricks for tying shoes, and printable practice shoe. In my post about tips and tricks, I mentioned Loopeez, but had never tried them. In the time since I wrote that post, Loopeez has sent me a sample of the product to try out, and has offered to give away one to my readers as well. They have two different products, one is a rubber piece with holes that the shoelace loops go through, and the other is their two color laces.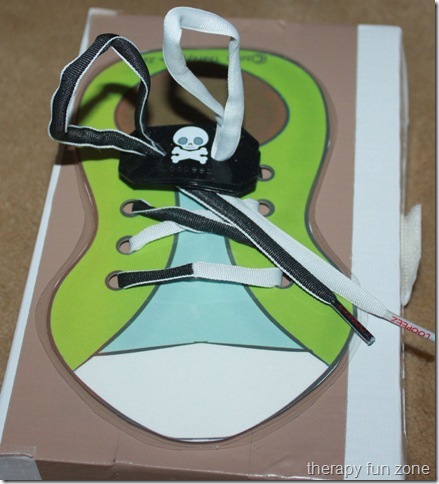 I have to preface my review by saying that I do not prefer teaching the two loop method to the kids that I work with. I find that it is too visually confusing to kids with special needs. I will teach it though if it is the best way for that particular child to learn it, and there are many kids who need the two loop technique.  With the Loopeez you can use the two loops as in the picture, or you could pull one of the loops all the way through in order to help practice the one loop method.
What the Loopeez is:
The Loopeez is a piece of rubber with two holes in it. It sits on top of the untied laces, and you pull a lace and loop it through each of the holes. This holds the loops for you while you cross the two loops to complete the bow. If a child is learning the two loop method, then this can help them get it perfected. It is difficult to pull the loops through the holes, so an adult will likely still have to do that part.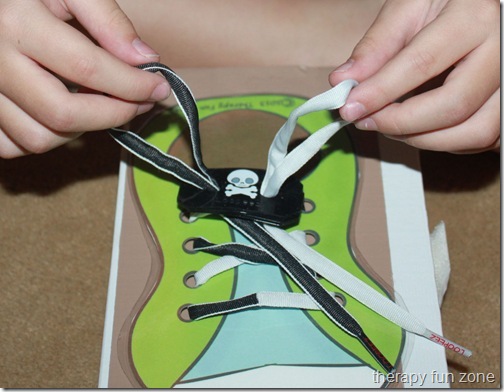 The other Loopeez product is the two color laces. I highly recommend two color laces as they can help visually separate the two laces and make it easier to keep track of which lace is doing what.

The give away is for both the Loopeez rubber piece, and for the two color laces together. Enter below through rafflecopter if you would like a chance to win these.  Loopeez also has a promotion going on where you can get $3.00 off if you buy both the Loopeez and the two color laces together.  In order to get the discount, you buy both on their site, and in the notes when paying by paypal, you state that you were sent there from Therapy Fun Zone.

The following two tabs change content below.
Tonya is a pediatric Occupational Therapist, and loves creating things to work on skills and solve problems.
Latest posts by Therapy Fun Zone (see all)