Twister is a good game to work on motor planning and gross motor skills. My nephew is autistic and he is very motivated by words and writing so we incorporated words into a game of twister to work on his motor planning skills.
Put a strip of packing tape on each color on the twister floor mat. This makes each of the colored circles a surface that you can write on with dry erase markers (or washable markers).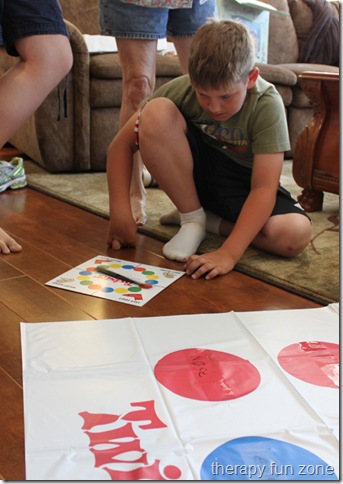 Write words on the tape with a washable or dry erase marker. They could be words that are being worked on in school, letters, math equations, states.
Have a stack of index cards that have matching words on them, and put them in color coordinated stacks to match which color the word is on the floor mat.
Spin the twister wheel which tells you what color and what hand/foot to use.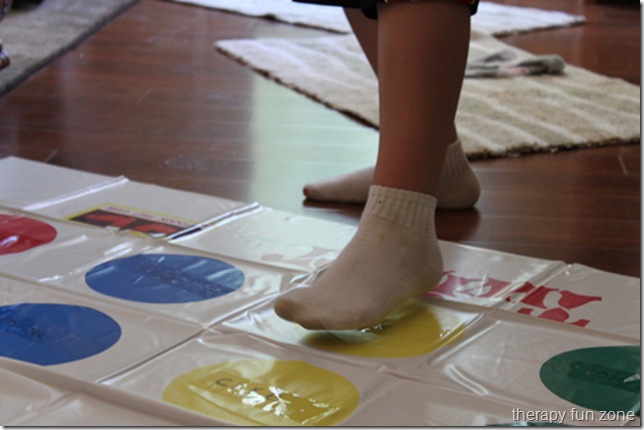 Get a word from the correct color stack of index cards.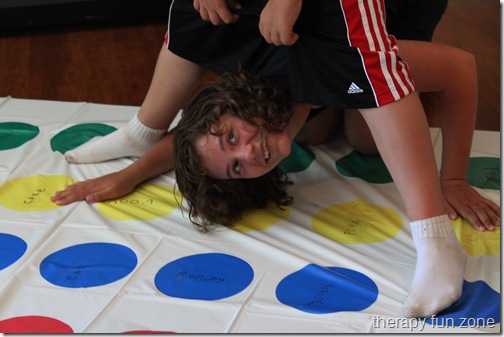 Find the matching word on the floor mat and put the correct foot or hand on the word.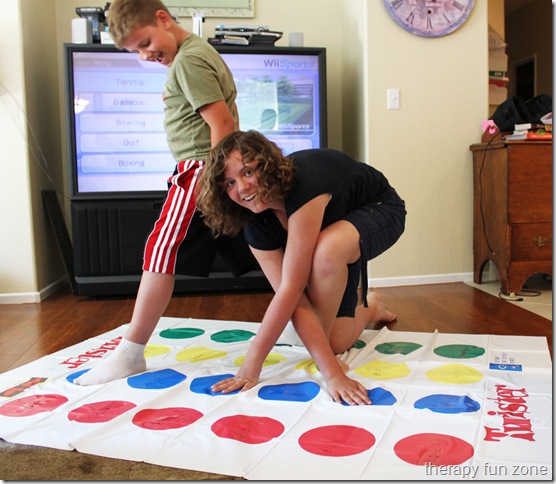 Continue playing until the child is screaming at you, starts throwing things, or whatever indicator they use to tell you that they are done.
Modifications:
Could use pictures with the words
Use multiplication table
Just use the colors
Use alphabet, and match capitals to lower case
Spell out sentences
Addition facts
Tell time – find/match a clockface to time
Speech sounds
States
Capitals and states
Spanish words
Skills:
Learning school activities
Motor planning
Balance
Right/left discrimination
Core strength
Looking For More? Try these categories
The following two tabs change content below.
Tonya is a pediatric Occupational Therapist, and loves creating things to work on skills and solve problems.
Latest posts by Therapy Fun Zone (see all)