Working on Following Directions When Out
Going out to the store or out to eat can be a very stressful experience for some parents who have a child with special needs.  A lot of the stress comes from fear of the unknown, the potential for melt-downs, and not knowing whether you can handle all of the random things that may come up while you are out.  Often the kids have the same concerns; fear of the unknown and not knowing if they can handle the random things that come up.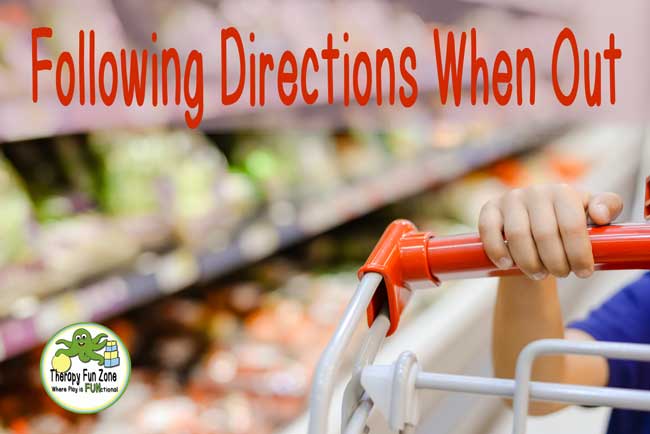 Some initial suggestions before you even tackle a new scenario is to be prepared
Bring a packed bag with things that you may need such as change of clothes, snacks, games for entertainment, and a lovey or special toy for relaxing.
Start small.  Begin with short outings to places that are easy to access and that do not require a lot of time.
Teach safety direction following skills to give peace of mind.
What are some of the important skills that need to be learned in order to feel comfortable with your child in a new environment?
hold an adult hand when walking by the street, across the street, or in a parking lot.
Hold onto the cart when in the store.
Stop at the street and cross when the walk sign says to go.
Always use a cross walk.
Don't play in the street. Stay on the sidewalk, grass, driveway, or playground.
Most of the time, when teaching these new skills, repetition and consistency are of utmost importance.  You can't just tell a child with difficulties, for example, to hold onto the shopping cart and expect it to be successful the first time. You have to help them follow through by repeating directives, possibly helping them hold on, and to do it every time until it becomes a habit.
Directions also need to be short and simple. The child will probably not be able to follow multiple directions all given at once, so you need to give one direction at a time and wait for follow through.
A great place to practice direction following is at the store. Younger kids and those that are prone to running away can practice holding the cart when you aren't holding their hand. Kids can practice putting items in the cart gently when you ask them to. Some older kids can be told what items they can get off of the shelves or can look for certain things down each aisle. A helpful tool would be to make cards with the picture of the specific grocery item that you would like your child to find and put in the cart. It is a bit of extra work before the shopping trip, but it could make shopping more pleasant when the child is actively participating and not bored, whining, and trying to leave. You can use picture cards in other settings too for kids to find things and have jobs while you go to the mall, zoo, or restaurant.
Tips to facilitate direction following when out.
Repetition and consistency are key.
Ensure follow through either by waiting for it, or by helping with the follow through
Make the directions short and simple.
Use visual cues such as picture cards.
Actively involve the child
Give praise for success.
Ignore refusal and praise attempts. Persist until there is success and then give praise (praise even the small parts toward success).
Keep in mind that kids will often not remember certain directions for very long until it becomes a habit. You have to give a direction and ensure follow through repeatedly in order to help create a habit.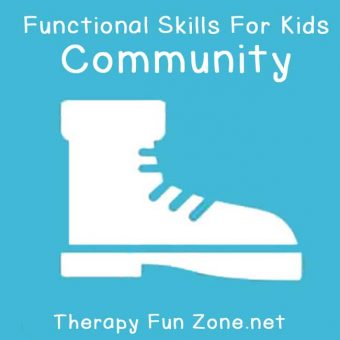 This post is part of the Functional Skills for Kids series. You can read all of the functions on childhood HERE.  Read all of my monthly posts in this series HERE.
Looking for more information about Potty Training in childhood? Stop by to see what the other Occupational Therapists and Physical Therapists in the Focus on Function series have written.
Developmental Progression of Community Skills  | Your Therapy Source
How to Support Your Child's Core Strength Development Every Day | Miss Jaime, O.T.
Tips to Help "Sensory Kids" at Stores and Malls | Mama OT
Attention and Behavior Concerns and Independence in the Community | Sugar Aunts
Modifications for Kids with Special Needs in the Community  | Growing Hands-On Kids
Calming Games and Activities for Outings  |  The Inspired Treehouse
Working on following Directions When Out  | Therapy Fun Zone
Using Community Activities to Develop Your Child's Social Skills  |Your Kids OT
Save
Save
Save
Save
Save

Looking For More? Try these categories
The following two tabs change content below.
Tonya is a pediatric Occupational Therapist, and loves creating things to work on skills and solve problems.
Latest posts by Therapy Fun Zone (see all)