I really like using push-ins as an activity, but have usually used buttons to push into a slot. For an easier, more basic push in activity, I used balls to go into a see through container so that the kids could see the ball drop into the container.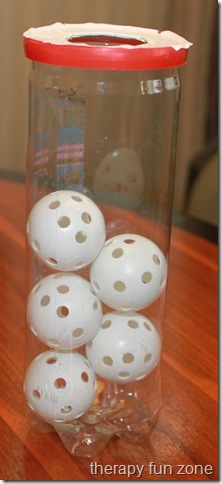 I used a tennis ball container because it is see through. I cut a hole into the top of the container, and then put duct tape around the hole to make sure that it stayed secure and did not tear. The simple ball is much easier to push in than the buttons, and the hole in the top can be cut just a bit small so that you have to push to get the ball in. The balls that I use are practice golf balls.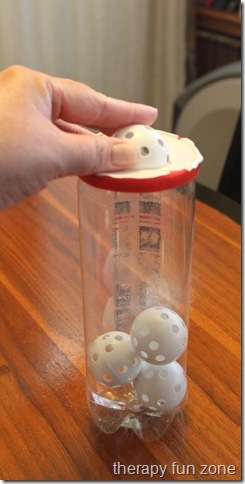 Materials:
Skills:
fine motor
grasp and release
finger strength

The following two tabs change content below.
Tonya is a pediatric Occupational Therapist, and loves creating things to work on skills and solve problems.
Latest posts by Therapy Fun Zone (see all)