Big Mouth Creature with clothespin to open the mouth
I saw these Big Mouth Critters on a blog called Whimsical Publishing, and thought that they were so cute, and that it would be a great activity for some of my students to do. Some kids need the challenge of following the folding directions and trying to make the creature themselves, but others have trouble with folding and do better if there are fold lines or similar to help them with the concept of where to fold.
I figured if I was going to add lines for folding, I might as well try to add more for the kids that I just want to work on folding, and don't want to have them color the creature themselves. I don't always have time in one session for folding and coloring.
Then of course I wanted to add a new dimension of using a clothespin to open the creature's mouth. It took me a couple of days to work out the best plan, and ended up using two foam cubes
(I posted about the cubes here) with the end cut off. I cut an opening in the back of the creature for the clothespin to go through, and then hot glued one cube into the top angle, and another cube into the bottom angle. Then I stuck the clothespin into the hole in the back and hot glued the top of the clothespin to the cube on the top, and then to the cube on the bottom.
This activity was much easier to do than it sounds, with a little help from an adult using the glue gun. I used a LowTemp Mini Glue Gun
so that it would dry immediately and stick really well. I think they may even hold up going home in back packs since the foam cubes are inside giving it extra stability.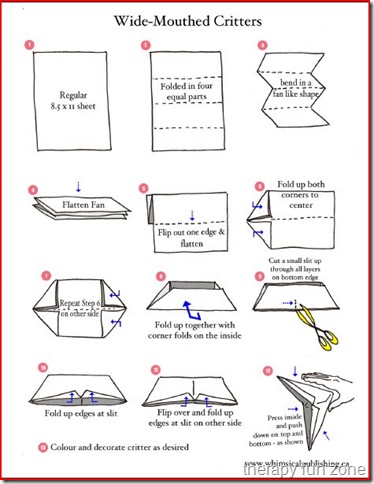 Maybe kids will do extra pinching exercises while playing with their big mouth creature. I made an orange one, a green one, and a plain white one to color on your own. You can of course also just use a piece of white paper. Here are the folding instructions from the whimsical publishing site.
This activity is really fun and motivating, and folding paper really works on those visual perceptual skills.  Coloring the creature works on fine motor skills, and after the creature is done, playing with it and opening his mouth with the clothespin will work on hand strengthening.
Materials:
paper (can use the templates or regular paper)
crayons
scissors
foam block
clothespin
hot glue
Skills:
Fine motor
Visual Perceptual
hand strengthening
motor planning