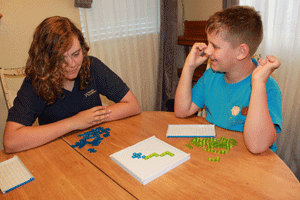 I really want to pronounce this game Bloke-us, but I think that it is pronounced Block-us. Anyway, to the game. I bet everyone else has heard of and played this game before, so what rock have I been hiding under. This game is awesome for O.T. I got the "to go" version at Target , and not only does it require fine motor and visual perception to play the game, but it requires more visual perception to put the game away. You definitely have to allow enough time at the end in order to put the game away because it can be hard to do.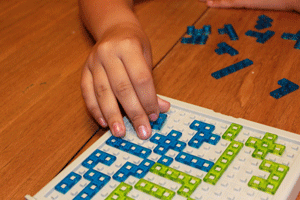 The game pieces are each in different configurations, and you snap the pieces onto the board. Each new piece must touch at least one other piece of the same color, but only at the corners diagonally. When putting it away, the pieces snap back into the carrying case in the designated space for that shape. It takes some visual searching to get them in the right spaces.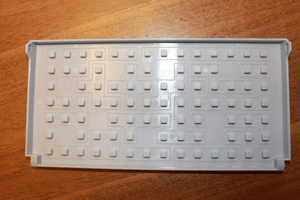 Materials:
Blokus game
Skills:
Fine motor
Visual perceptual


The following two tabs change content below.
Tonya is a pediatric Occupational Therapist, and loves creating things to work on skills and solve problems.
Latest posts by Therapy Fun Zone (see all)