This is a little chair that I made over a year ago for one of my clients.  I had it posted somewhere else, and thought that I would add it here.  Honestly, it takes a long time to make, but it is cheap, and did exactly what I wanted it to do.  Unluckily I don't have any pictures on the little boy using it.  I was able to position him in ring sit and use the foam blocks to hold his legs in that position.  I made a tray for it too.  The cool thing is that the blocks can be repositioned any way you want. 
I wanted it to keep him in "indian style" sitting on the floor, and support his trunk and give him a tray to put toys on. I also wanted it comfortable, and adjustable to grow with him a bit. I wound up making it out of foam floor tiles that fit together like a puzzle. I cut them up, glued them together into blocks, and put velcro on them. Here is the finished product, adjusted to fit a stuffed bear.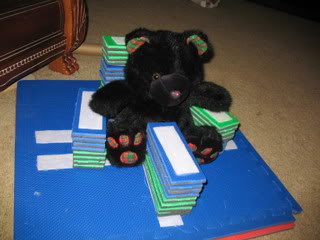 this is all the pieces I cut to size, and before hot glueing together into blocks.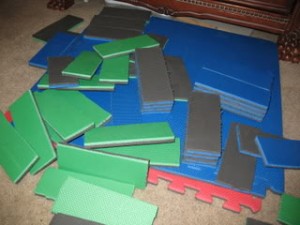 Here is the finished chair without the bear.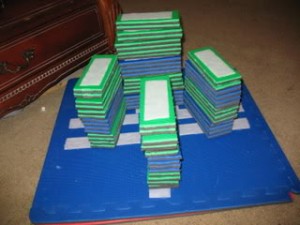 My client's physical therapist loved it and used it to hold him in long sitting to stretch out his hamstrings.  The hardest part about making it was cutting all of the little pieces in order to glue them together.  I would do it again, but next time I will figure out a way to make all of that cutting easier, or find a material that is already the size that I need it to be.