In my constant quest to find new and fun ways to work on fine motor skills, I made an adorable little piggy bank out of felt. He has a little slot to put money or buttons into with a zipper in the back to take the money out. The kids enjoy putting money into the slot, but it is just as much fun to unzip the back and take money out of the bank.
I made it with 2×2 layers of felt so that is open between the layers to hold the money. The zipper is really secure between two layers of felt and it works great. I am wondering if I should make some other ones with different types of closures where the zipper is so that kids can work on other skills such as velcro, buttons, and snaps.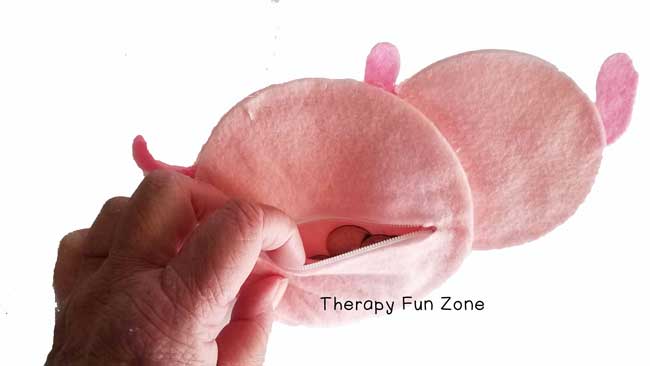 The first student that I had work with the piggy bank was very enamored with it, and it held her attention for quite a while as she was working. I love how it turned out.
The great thing is that it works on motor planning and fine motor skills, and I can get the kids to do some in-hand manipulation as they hold several coins in their hand while putting the coins into the slot one by one. I have always loved working with piggy banks, and this is a piggy bank with a different dimension added due to the flat angle and the zipper for money retrieval.
You could make your own out of felt with a short zipper. I have made a few extra and they are available in the shop.
Check out some other posts about piggy banks and the skills that are worked on, and a post about digital banks.
The following two tabs change content below.
Tonya is a pediatric Occupational Therapist, and loves creating things to work on skills and solve problems.
Latest posts by Therapy Fun Zone (see all)