Free Standing Wall Marble Maze
I love marble runs
for a variety of reasons, and have posted about many different kinds. There are the plastic free standing ones that you put together, there is the fabric marble maze, and there was a wall mounted marble run, and the cardboard marble maze. Needless to say, when I saw this marble run that mounts on a free standing included wall, I had to try it out. It is called the Weird And Wacky Contraption Lab. I found it at Michaels, and use a 50% off coupon, so that put it in my acceptable price range, although it is cheaper on Amazon
than it was full price at Michaels, so don't go without a coupon.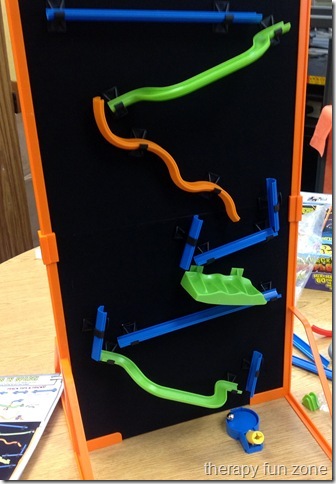 You clip the tubes, slides and other pieces onto the connectors, and then you Velcro them onto the board. It is a great fine motor activity as well as visual perceptual and problem solving to figure out where to put the different pieces to get the little balls down to the end of the run.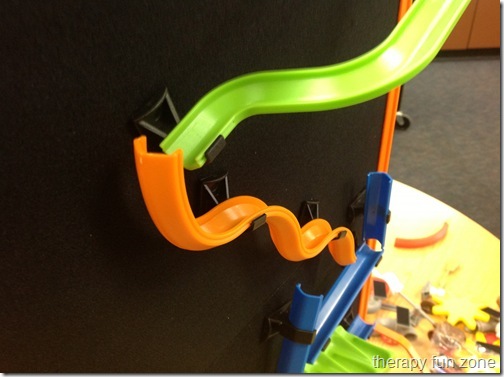 Some of the things I love about marble runs:
Building them requires planning
Bimanual hand use when building
Fine motor control when building, and when placing the marble in place
Very visually stimulating to watch the marble go down the run
Great problem solving activity
Visual perception to place the marble on the track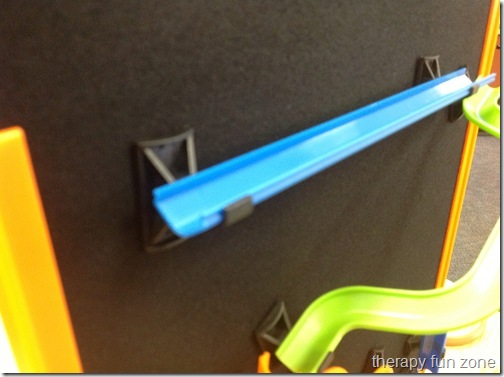 This marble run is light, and easy to put together and take apart. It lends itself well to traveling with me. It comes with lots of different pieces that do different things. There are straight slides, bumpy slides, gears, levers, etc.