Handwriting Remediation Tips From the Size Matters Handwriting Program
Beverly Moskowitz has developed a handwriting program called Size Matters Handwriting Program and she has put together some quick tips that use her program's concepts.  You can find her program at Real OT Solutions.  I have taken one of Beverly's classes and it was full of good information and full of energy.  I have incorporated some of her tips into my work as well, and have worked on size with my mud writing too.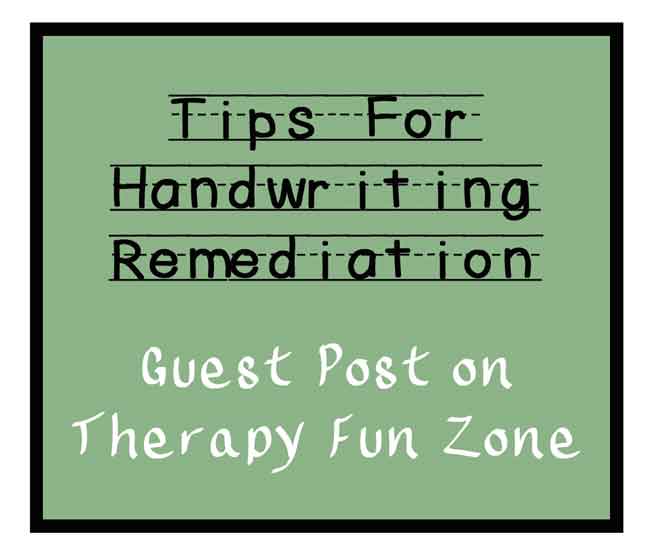 Focus on Size.
Score for letter size. Teach students how to score themselves. This last part is like giving children the answers to the test. In fact, when conducting a Size Matters lesson at the board or on their paper, make as many 'bad' letters as possible. 'Bad' letters defy the Rules, use the wrong Letter Lines, have funky-looking parts or are reversed. The letters may actually look like the intended letter…which is what your children may already be making. Ask the children if you have printed a Star-Worthy letter, and why it is or it isn't. Critical analysis is an important component of the program. Besides, you know that there is nothing your students like more than telling a grown-up they screwed up.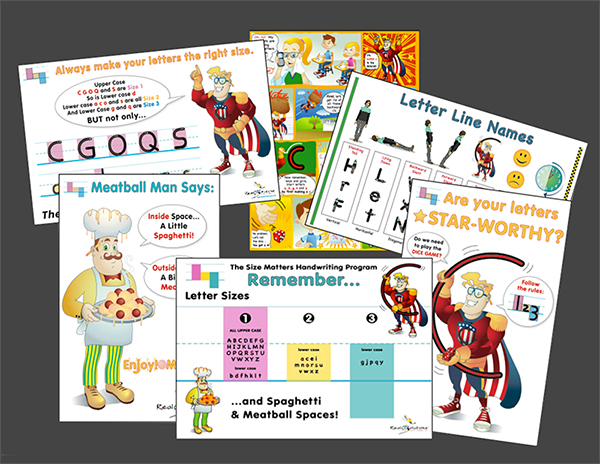 Be realistic.
Readability and functionality are the goals. We are not entering any handwriting contests. We do however, need to make sure that children can complete assignments, take notes, hand write messages, fill in forms, keep pace with their classmates, and finally… have all of the above read back by teachers, peers, parents and themselves alike.
Empower your teachers and students with the Rules.
Encourage they say them, sing them, add the hand movements and more, all day every day. But like a record repeating in their heads, the Rules give them concrete guidelines to judge their own printing.
Turn students on to The Dice Game.
It is so simple, yet so effective, especially once they know that dice determines practice. Instruct the teacher to walk around with dice in his or her hand during any and all writing assignments. The audible clinking of the die reminds children to 'Think Letter Size.' Periodically, a teacher could stop by a student's desk and ask him to critique a letter. Of course, they should only ask students to critique a letter(s) already been taught and practiced. If the letter is printed the wrong size, ask the student "What size is this letter?" And what's the Rule?" At that point in time, the teacher could present the die, and to allow the student to select a die that is 'Calling their name." Then, at the bottom of the page, the back of the paper or on another piece of paper entirely, the child could practice making that letter (or word) Star-Worthy.
I always encourage teachers to focus on the assignment. We OTs must appreciate that they have a curriculum to follow. But in this way, the children are reminded to print their letters the correct size.
And believe me… if you stop one student, his classmates are similarly alerted. They could be next!!
Offer low tech options
Some low tech options that enable them to model accurate letter sizes, like
adapted writing paper scanned into Smartboards, writing lines on the wipe-off whiteboards or permanent lines on any board. Encourage them to buy a Magnetic Rectasquare Board and to use it when introducing vocabulary for any literacy, social studies, science or even math lesson.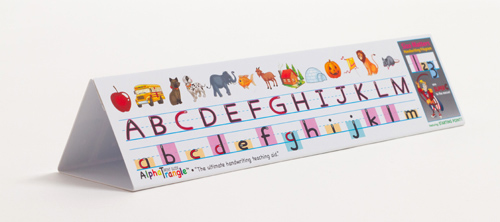 Provide samples of various grade levels of adapted writing paper.
Get children excited about graduating to a higher grade level paper because they are making their letters the right size.
Share
Make sure teachers are shown how handwriting sensibility can be embedded into their curriculum.
Let's be honest. Our children are growing up in an era of instantaneous networking. The need to communicate and the demand to do so in a timely manner will dominate our students preferred options down the road. Just the same, there will always be a need to print, even if it is in limited quantities. Our goal needs to be functional legible printing. Teachers are our partners. We are on their turf. Respect the fact they have a full plate already. Share materials and strategies that are doable within their already busy days.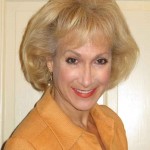 Concept-driven, fiscally responsible, easy and now proven, the Size Matters Handwriting Program is already in 40+ states and is poised to change the way handwriting is taught and embedded into the curriculum