When working with little kids doing early intervention, I need to clean my toys after using them with a child. There are a couple of techniques that I use to clean them, depending on how many toys were used that day, what type of toy it is, and the size of the toy.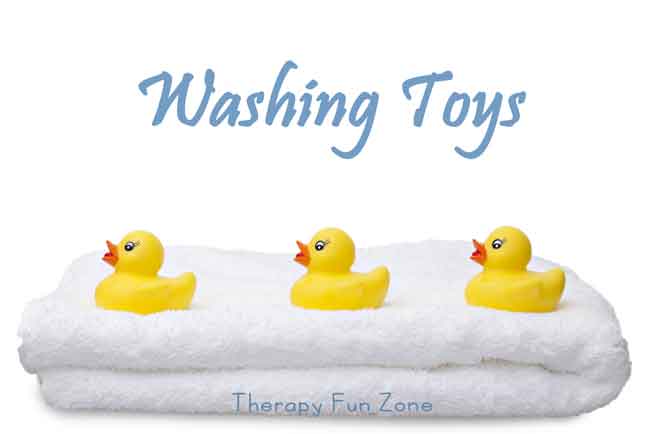 Picture credit: signature photos | dollar photo club
For the small plastic toys with little parts such as Mr. Potato Head and shape sorters, I love to stick them in a lingerie bag (made for laundry) and place them on the top rack of the dishwasher. I will then run a load of just toys. I do this when I have used a lot of toys that day. I have a bin in my car of used toys, so if I use them with one child, then they go into the used toy bin to be washed when I get home.
If I have a small amount of toys that were used, and I don't want to run a whole load in the dishwasher, then I put them in a bowl of disinfecting cleaning solution.  As my cleaning solution, I either use water and bleach (although I have ruined a lot of shirts with bleach), or water and vinegar with some orange or lemon essential oil (or Germ Fighter) in it for the disinfecting properties. I let the toys soak for a while and then rinse them off with clean water. Then I lay them out on a towel on the counter to air dry.
When I have bigger items or things that can't get soaked, I will wet a towel with one of the cleaning solutions and wipe down the toy. I have also used baby wipes with alcohol added to wipe toys down (make sure you label the wipes so no one uses them for anything else).
Cleaning solution

The following two tabs change content below.
Tonya is a pediatric Occupational Therapist, and loves creating things to work on skills and solve problems.
Latest posts by Therapy Fun Zone (see all)