Holiday Sentence Memory Writing
While working with my students this year, I have been trying to work on not only the fine motor aspects of writing, but also the memory aspect of writing. When you can't remember the words that you are writing, then how can you write the sentence that is made up of those words. I have written about this activity before, and made the monster writing for Halloween (or any time you want to have fun writing about monsters), so now I have made a set of drawing and sentence writing that is specific to December Holidays.  Here are just the sentences for free in case you would like to use them to copy.  You can purchase all of the files in the shop or can find them over in community membership area.
You could do just a part of the activity, or all of it, depending on the time available and the skills you want to work on. There are picture samples for the kids to copy a Christmas tree, and ornament, and a Menorah. Then there are dice with decorative shapes on them to have the kids roll the dice and draw the rolled decoration on to their picture. Once the picture is completed, it is time to write about the holiday. Some students may prefer to make up and write their own sentences, but some may want to copy a sentence.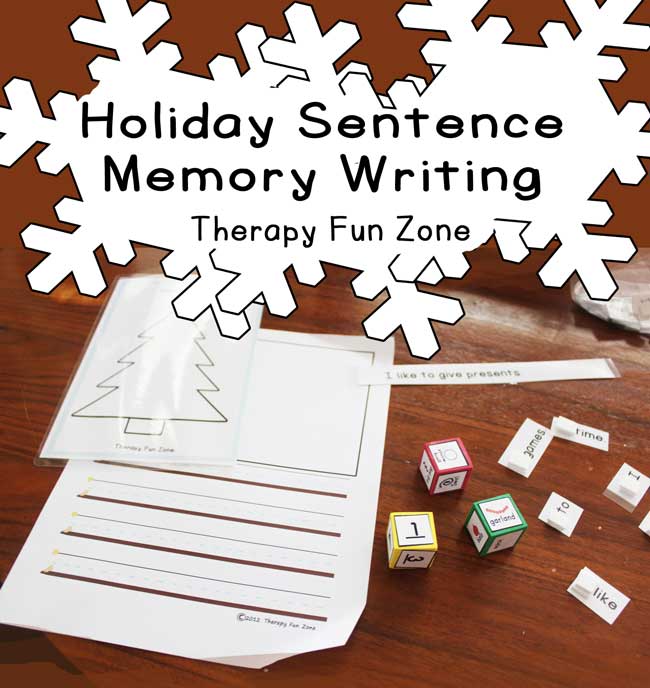 I have sentences to print out and show the students, and they then need to try to remember their sentence. I then have the words from the sentences cut out, laminated and some fun foam stuck on one side. I have the kids use chopsticks or clothespins to pick up the words needed to make their sentence and place them in order. Then I will cover up their completed sentence to see if they can remember each word to write the sentence. If they need to peek at their sentence, I let them, but I want them to try to remember it on their own.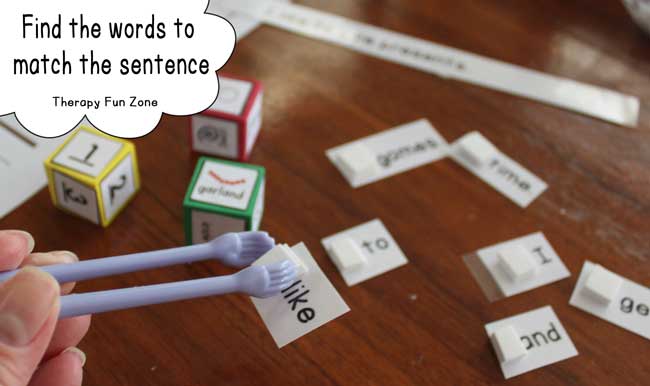 The great thing about this activity is that it incorporates visual motor skills with drawing, fine motor skills with the chopsticks and clothespins, and memory and writing.  You can also use the holiday dice shapes as drawing starters or even story starters.
Materials:
December holiday sentence memory printable
Foam cubes for dice
Pencil
Crayons or colored pencils
Skills:
Fine motor
Visual motor
Visual memory
Save