Chewy tubes
are the perfect shape and texture for practicing chewing and working on decreasing oral hypersensitivity.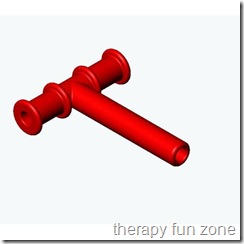 The long skinny shape is able to go back to the molar area in the mouth. A lot of baby toys are able to be gnawed on at the front of the mouth, but due to safety reasons they are built so that they can not go back very far in the mouth. This is good to keep kids from choking on toys, but makes it hard to get kids to desensitize and work on chewing farther back in their mouth.
One type of chewy tube has the chewy ends sticking out in an x pattern, so it has the chewing end, but does not let it go too far. In my opinion, that is the perfect teething/chewing toy. You can really chew back where it counts.
Skills:
Chewing
Oral desensitization