Visual Motor Skills and Cutting With Scissors
Being able to cut with scissors requires many skills, starting with the physical motor ability to sit at a table, the fine motor ability to hold the scissors, and the strength to open and close the scissors. In order to follow lines and shapes and to cut them out with scissors, you need to have visual perception (be able to see the shape that you are cutting), and visual motor integration (eye-hand coordination).  You need to be able to visually discern what direction the line you are cutting is going, and then be able to move your scissors and control the scissors in order to get them to go in that direction as well.
When kids are just learning to cut, following a straight line across the paper is a good start in order to be able to coordinate the visual motor aspects of cutting. You can then advance to a longer line for cutting, then a curved line, and then simple shapes such as a square (straight lines), triangle (straight lines), and circle (curved lines).
If a student is struggling with the visual motor aspect of cutting, one way to modify it is to make the lines that they need to cut much thicker and darker.  This gives the student a much stronger visual area to follow, and makes it easier for them to be successful.
Once a student is able to master the basic shapes, you can advance to cutting out more complex shapes such as a star or a flower where you have to go around the parts of a picture. You can cut out shapes and then put them together to make designs as well. I have a lot of things that can be printed and cut out in order to work on these cutting skills. A new one is the spiral snake to cut out and work on the visual motor aspects of cutting.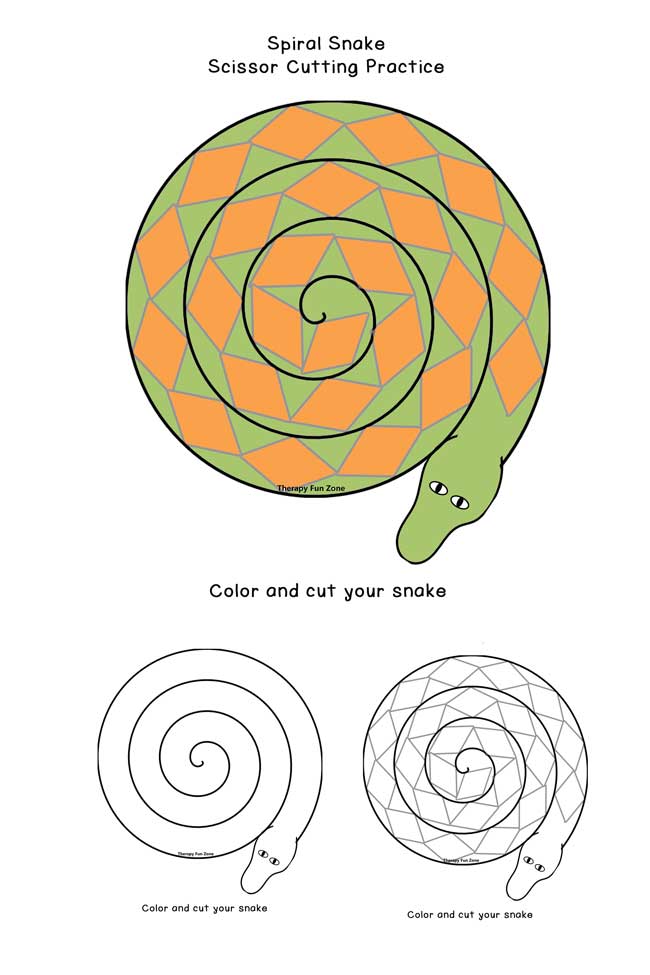 An interesting observation that I have made is that when given a picture to cut out that has multiple parts to it, such as a flower with petals, many student with Autism will cut out each individual petal instead of cutting around the whole flower as expected.  I think that these students' concrete thinking collaborates with their visual perceptual system, and when they are given an object to cut out, they cut on every line that they see, even if the line is on the inside of the picture.
Other visual perceptual areas that can impact cutting would be visual discrimination and figure ground.  If you have a worksheet that has some specific parts that need to be cut out, you have to be able to differentiate between the parts that need cutting out and the rest of the worksheet. Most of us do this naturally, but it can be a struggle for some students.
This post is part of the Functional Skills for Kids series. You can read all of the functions on childhood HERE.  Read all of my monthly posts in this series HERE.
Looking for more information about Scissor Skills in childhood? Stop by to see what the other Occupational Therapists and Physical Therapists in the Focus on Function series have written.
Developmental Progression of Scissor Skills: 35 Best Tips for Teaching Kids to Use Scissors | Mama OT
Fine Motor Considerations For Learning to Cut With Scissors | Miss Jaime OT
Gross Motor Skills and Scissor Use  | Your Therapy Source
Sensory Processing and Scissor Skills – a Surprising Link  | Kids Play Space
Teach Kids How to Slow Down to Cut on Lines |Sugar Aunts
5 Tips for Difficulties with Scissor Skills  | Growing Hands-On Kids
Creative Cutting Practice for Kids | The Inspired Treehouse
Visual Motor Skills and Cutting With Scissors  | Therapy Fun Zone
Animal Puppets! Cut. Create. Play.  | Your Kids OT
Save
Save
Save
Save


The following two tabs change content below.
Tonya is a pediatric Occupational Therapist, and loves creating things to work on skills and solve problems.
Latest posts by Therapy Fun Zone (see all)