Play doh is such a great tool to use to work on fine motor skills, so I decided to make some from scratch. Since the best recipe involves cooking, I anticipated it being difficult, but it was surprisingly easy.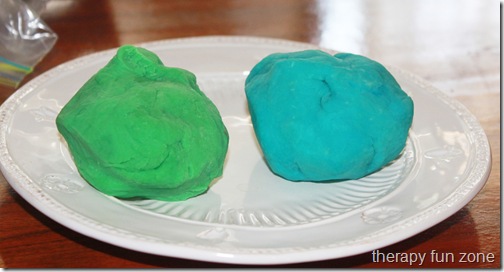 I made three small batches of 3 different colors.
The recipe is:

1/2 cup flour
1/2 cup water
1/4 cup salt
1/2 tbs oil
1tsp cream of tartar (I did not use this, and it turned out great)
food coloring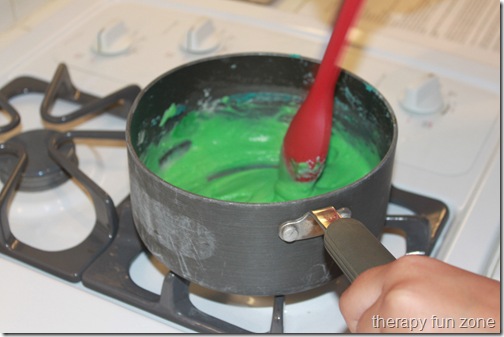 I mixed all of the dry ingredients in the pan, then mixed in the wet ingredients, and then added the food coloring until it was the shade that I wanted. When it was mixed I turned on the heat, and stirred until it was thick and balling up in the middle of the pot.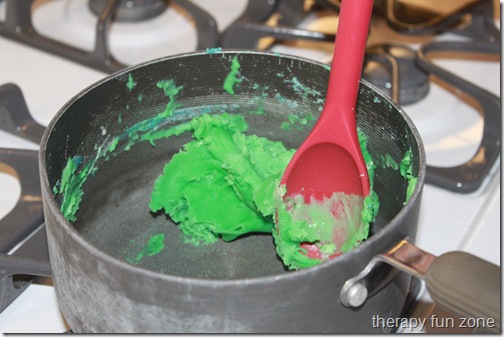 It cooks really fast and is ready to play with in a couple of minutes. If you want to make more per batch, you can double the recipe.  You can also add an extra sensory experience by adding a drop of essential oils to each batch to give it a nice scent.  I love to use play dough as a multi-sensory experience.
Now you can use your play doh to play with and create fun designs.
Materials:
flour
water
salt
oil
food coloring
essential oils (optional)
Skills:

The following two tabs change content below.
Tonya is a pediatric Occupational Therapist, and loves creating things to work on skills and solve problems.
Latest posts by Therapy Fun Zone (see all)