Jenga Blocks Writing Game
At Christmas, I got my kids a generic Jenga
game for really cheap, and I got myself an extra one because I knew that I would want to make a therapy game out of it. I didn't give it much thought until I was brainstorming new game ideas and using dominos as part of a game was brought up. I remembered these Jenga blocks, and decided they would be easier to use than dominos because I could write directly onto the blocks for the game.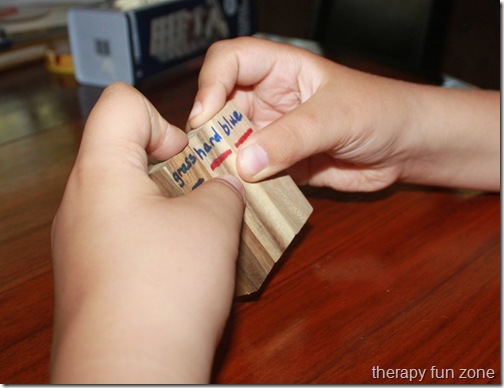 I put the alphabet on one side of the blocks, and words on the other side of the blocks. I wrote nouns, verbs, and descriptive words so that they could be used to make sentences similar to how I use my sentence dice game (the dice game in the shop). I underlined the different type of words in different colors so that it would be quick and easy for me to differentiate them.
To play the game, the blocks are place in a bag, and the student rolls the dice to see how many blocks they need to draw out of the bag. If you have a student working on lower skills, you can have them write a word that starts with the letter, just write the letter, or write the word that is on the block. If you have kids working on higher skills, they need to make and write a sentence using all of the words on the blocks that they picked.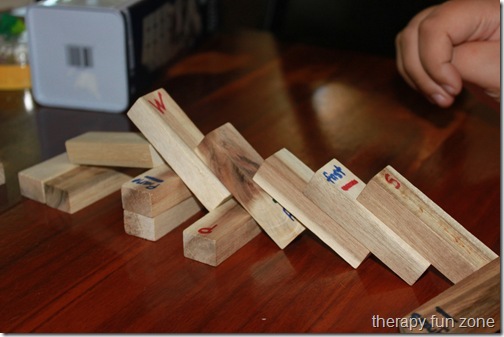 Once the words or sentences are written, the student needs to line up their blocks in a row so that when the game is done, they can knock the blocks over like dominos. I did not really work out a winner of the game, but I think that everyone is a winner if they get their blocks to line up and knock down in a cool way.
If you don't have jenga blocks, you could use dominos and just tape printed words onto them.
Materials:
Generic Jenga blocks, or dominos
Marker or printed words
Dice
Skills:
Fine motor
Handwriting
Motor planning
Visual perception

The following two tabs change content below.
Tonya is a pediatric Occupational Therapist, and loves creating things to work on skills and solve problems.
Latest posts by Therapy Fun Zone (see all)