Kids Activities and Creativity
When working on motor skills in therapy, sometimes we can get stuck in a rut doing the same activities over and over, and it helps to check out different ideas to help stimulate the creative juices.  Some ways that I stimulate my creativity is to follow blogs that post about kid activities, and to check out pinterest.  Every once in a while I will also read through activity and craft books to get some ideas churning.
One of the large kid blogs out there is KidsActivitiesBlog.com, and they published a book this summer named 101 Kids Activities
.  I received a free copy of the book, so I have had a chance to look through it and check out some of the activities in the book.  This book has some great and fun activities that can be used to work on many of the skills that we target in therapy.  Some of the activities can be modified easily to work on specific skills.  One activity example is the sticky note pom pom maze.
"From 101 Kids Activities by Holly Homer and Rachel Miller, printed with permission of Page Street Publishing June 2014″

Sticky-Note Pom-Pom Maze – page 37
This project transforms sticky notes into a maze that can be designed and constructed by a kid.  The fun thing is that even though they designed the maze, it will still be a challenge to maneuver a pom-pom through it with a straw and some air power.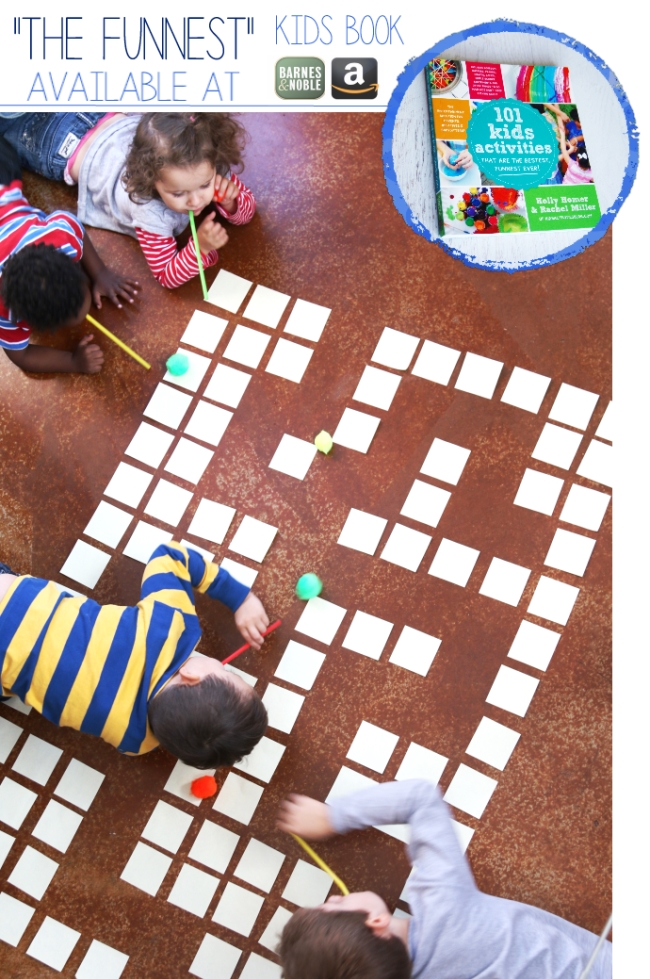 Click to download the full instructions:  Sticky-Note Pom-pom Maze
An interesting and funny personal note, One of the writiers of the blog and book, Holly Homer, was in P.T. school at the same school and at the same time that I was in O.T. school.  We didn't know each other then, but recently found out that we have some friends in common, and that our parents are really good friends.  Considering how good of friends our parnts are, I wouldn't be surprised if we have met in the past and just didn't realize it.
Check out the KidsActivitiesBlog and the book is available on Amazon
if you are interested.  You can also follow them and me on Pinterest.