Every clinic needs to have a Zoom Ball
since it is so great for working on so many skills. You hold the handles and pull them out wide so that the zoom-ball moves along the two strings to the person holding the other handles.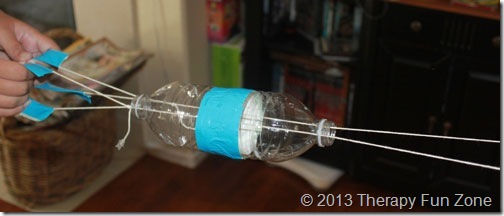 In order to make your own zoom ball, you just need two water bottles, scissors, two long pieces of string, and some duct tape. You cut the spout top of the bottles off, string the string through them, and then duct tape them together. I made handles in the end of my string out of duct tape.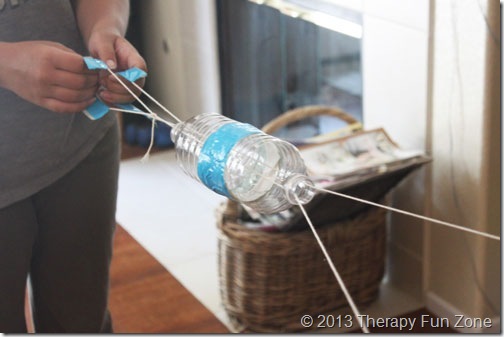 That is it. So simple, and works on so many skills. You can work on hand strengthening, range of motion, arm strength, motor planning, and bimanual coordination. You also have to get into a rhythm to get the bottles sliding smoothly back and forth.
Materials:
2 empty water bottles
scissors
string
duct tape
Skills:
Hand strengthening
Range of motion
Arm strength
Motor planning
Bimanual coordination