Multi Position Writing Activity
This week I wanted to incorporate some targeted fine motor and hand strengthening in our sessions, and then follow up with some writing tasks. I used the foam letter squares that I made for the pool writing activity. I spread all of the foam letters on the floor and gave each student a color to get, a munchy ball, and a set of training chopsticks. Starting our activity on the floor puts the kids into many different positions to work on different muscles and strengthen. Some of the kids were in quadruped, some were squatting, and others were in prone. All good positions to work in.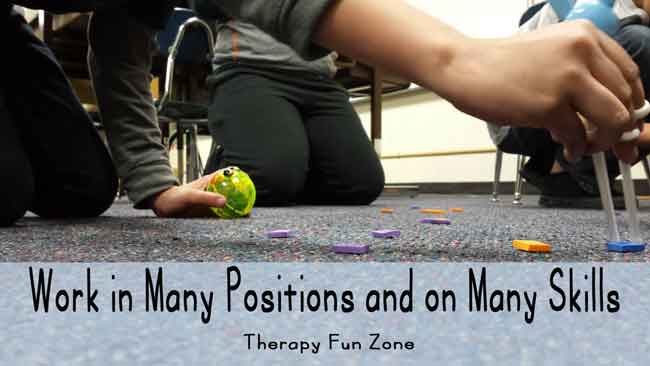 The kids have to use their chopsticks to pick up their color of foam squares and put them into the munchy ball. Once the students have all of their foam letters, then they can take them out, look at the letters, and see if they can make a word out of their letters.
Some of the kids were able to make their own words using the letters that they got, but others needed me to pick out a fewer number of letters for them to choose from.
Once they have their word made with the foam pieces, I then have the kids take their word to the table and write their word neatly. If they don't quite get the letters to the best of their ability, then we can practice it. Some of the kids may need to practice writing their word in a sentence.
Materials:
Skills:
fine motor
visual scanning
handwriting
upper extremity strengthening
sensory motor
bimanual
Check out the pinterest board about activities to do with a munchy ball.
Follow Tonya at Therapy Fun Zone's board Munchy ball games on Pinterest.
Save


The following two tabs change content below.
Tonya is a pediatric Occupational Therapist, and loves creating things to work on skills and solve problems.
Latest posts by Therapy Fun Zone (see all)