Raindrops Clothespin Fine Motor Game
The raindrop clothespin game has a full game with game board, and it also has some simple clothespin matching activities. In both parts, you use clothespins to clip raindrops onto an umbrella. Here is the reversals umbrella free.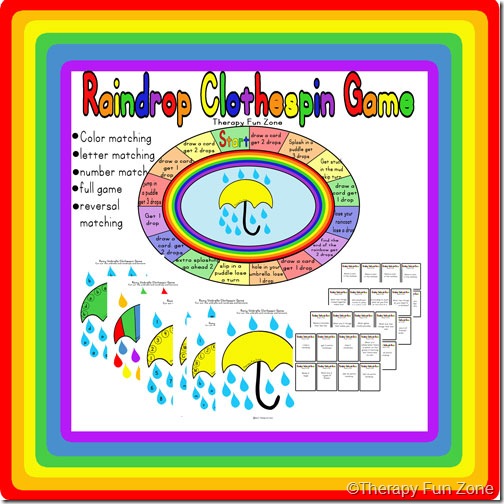 For the matching part, there is a colorful rainbow umbrella that you match the colored raindrops to. There are two umbrellas with alphabet letters, and one with numbers. There is also an umbrella that has frequently reversed letters on it, and you can download that one for free.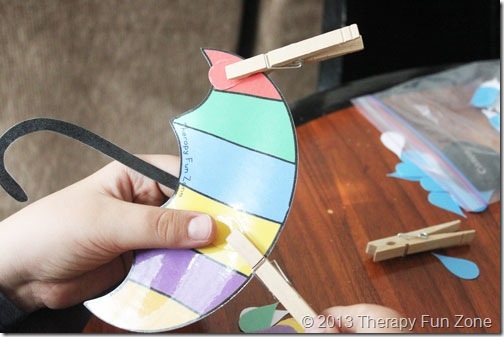 The game itself is more complex. There is a rainbow colored game board with instructions in the spaces, such as draw a card and get a raindrop. There is a blank umbrella with simple raindrops to collect and clip onto your umbrella. When you land on a space and have to draw a card, there are questions on the cards to answer. If you are working on communication and socialization, then the kids can just answer the questions, but if you want to squeeze in some writing, then they have to write down their answer.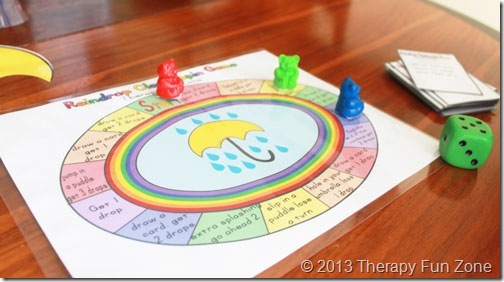 Also included are letter cards for the kids you want to just practice writing letters. You could have kids review any educational subject matter by using your own cards that they have to answer, such as math facts etc.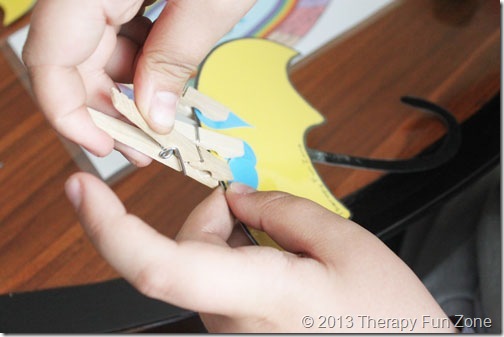 The game can either go from the start square to start, or you can just keep going around until the time is up. The winner is the player with the most raindrops at the end of the game.
Materials:
Skills:
Fine motor
Fingers strength
Visual perception
Save
Save


The following two tabs change content below.
Tonya is a pediatric Occupational Therapist, and loves creating things to work on skills and solve problems.
Latest posts by Therapy Fun Zone (see all)