Squirt Guns for Finger Strengthening
Squirt guns are good for working on finger strengthening, and they are fun too. A game that is fun to play with squirt guns uses a cup, water, squirt gun, and a ping pong ball. In this game, you fill the cup up most of the way with water and put the ping pong ball in the cup. Then you use the squirt gun to fill the cup up the rest of the way until the ping pong ball falls out of the cup.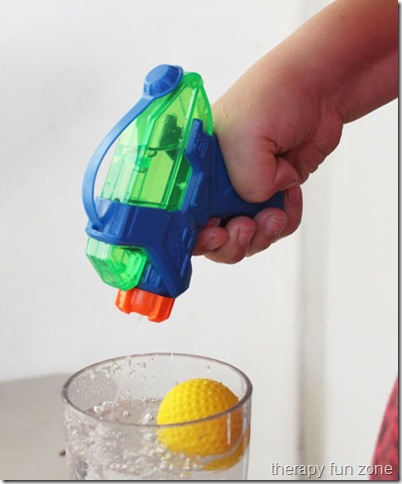 The kids had a great time with this activity, and were getting very competitive about whose ball was going to come out of the cup first. I used the wrong type of ball, (practice golf balls), so they did not come out of the cups, so I recommend that you use the ping pong balls.
Materials:
Cup
Water
Squirt gun
Ping pong ball
Skills:
Fine motor
Finger strengthening
Hand strengthening