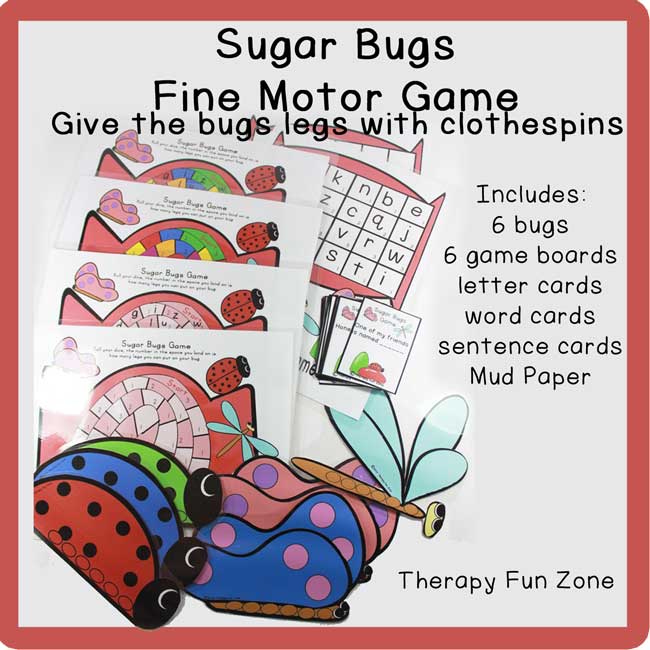 I have been meaning to make a clothespin game with bugs and their legs (the clothespins) for a while, and have just finished it. It combines two of the kids' favorite things, sugar and bugs. This game is great for any time of the year since there is no time of the year that sugar and bugs are not enjoyed, but it is definitely appropriate around Valentines day.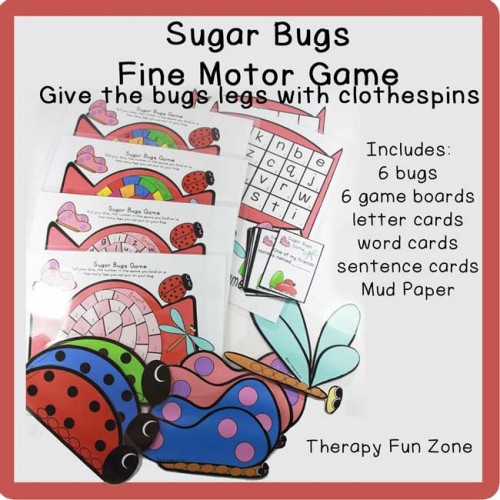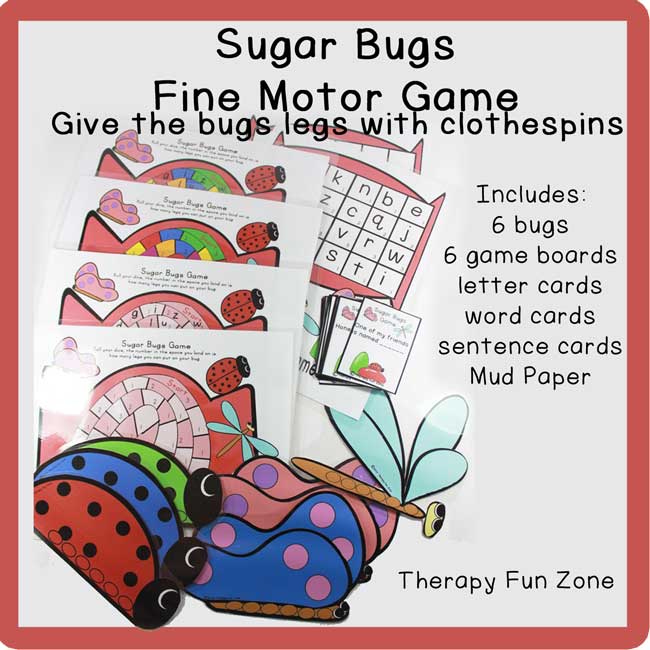 The game uses a spiral game board shaped like a wrapped piece of candy, and when you land on a space, the number on the space tells you how many legs (clothespins) you can add to your bug. There are six different styles of bugs that the kids can choose from in order to add their clothespin legs.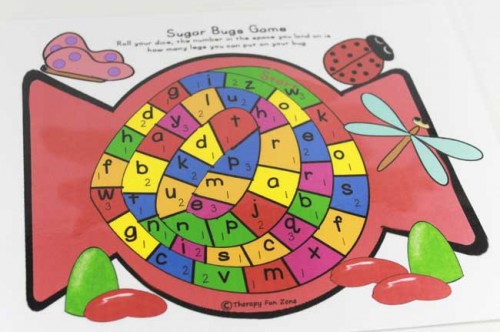 There are several ways to incorporate writing into the game with three different sets of cards that can be picked. One set of cards has the alphabet on it, and can be used with the kids that need to practice simple writing. The second set of cards have words on them for kids who need to practice copying or remembering words. The third set of cards have a fill in the blank sentence for the kids who need more of a writing challenge. All of the words and sentences are related to candy/sugar, bugs, or love/family.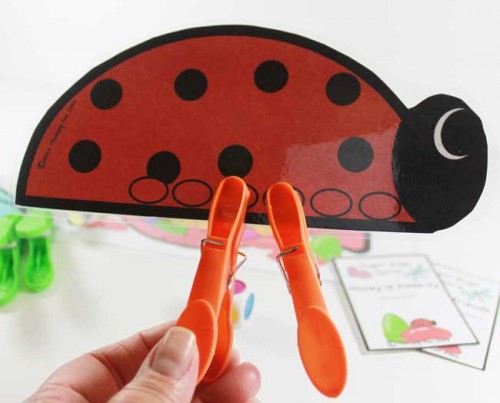 The game is easily modified for different levels of skill and can be played within a short time frame. Here is a free bug that you can print out to try out and add the clothespin legs to him without the full game.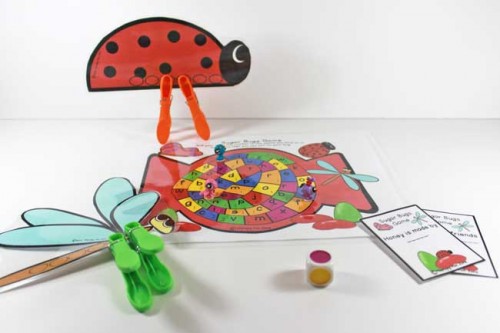 The kids really enjoy adding the legs to their bugs, and can get very competitive to try and get the most legs first. It is also more fun to write sentences when it is part of a game, and doesn't feel like so much of a chore to some students.
Also included is a separate game board with the letters on it if you want to avoid using the letter cards. To use the words and sentences, the cards would still be required. I have also made a game board that is for bowling (like the ocean creature game) for the kids that respond well and enjoy that style of game.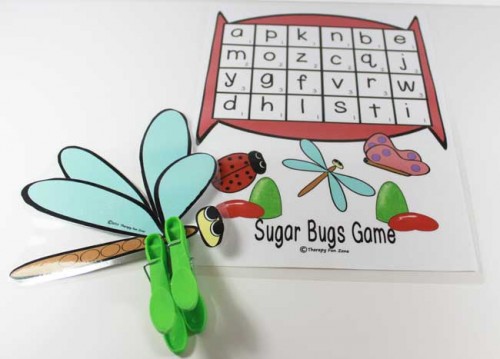 To play the game, you roll the dice and move your piece along the board the correct number of spaces. For really young kids, you can use a color dice to move to the right color as I have included a color board as well. I used squinkies
and mini littlest pet shop
toys as the game pieces to move around the board. You move to your space, place the correct number of clothespins on to your bug, and then draw a card to write (or use the board with letters on it). The first person to get all six legs on their bug is the winner.
This game goes great with the bugs in a jar craft and the heart butterflies and heart bugs.
Materials:
• Sugar bugs clothespin game
• Or free sugar bug
• Dice (Color Dice
for the color board)
• Game pieces (to move around the game board)
Skills:
• Fine motor
• Handwriting
• Finger strength
• Visual memory
Save
Looking to find printable activities? You can find them in the community shop

**** I often will link to things on Amazon. These are usually affiliate links that will pay me a couple of dollars if you happen to buy something while there. Any money made through the Amazon links goes back into this site and helps us keep it going. Thank You.
The following two tabs change content below.
Tonya is a pediatric Occupational Therapist, and loves creating things to work on skills and solve problems.
Latest posts by tonya cooley (see all)
https://therapyfunzone.net/blog/wp-content/uploads/2015/01/sugar-bugs-game-front-picture.jpg
650
650
tonya cooley
https://therapyfunzone.net/blog/wp-content/uploads/2016/04/tfz-logo-copy.png
tonya cooley
2015-01-26 01:00:52
2016-12-23 08:47:43
Sugar Bugs Clothespin Game