Using Sidewalk Chalk and Squirt Guns for Fine Motor
Playing with sidewalk chalk can work on and use a lot of different skills during therapy, and is a good activity. Using short pieces of chalk forces the fingers to use a tripod grasp, by using the index, second finger, and thumb. Writing on the sidewalk is also good for range of motion because the client has to get down to the ground to write.
If you don't want to write on the ground, you can write on the walls outside just as easily. Writing on the walls is good for arm strength, and encourages wrist extension when writing. If you have a chalk board
, you could certainly just use the chalkboard rather than the wall. It is the same idea as writing on the mirror or window with markers.
The hardest and most fun aspect of this activity is when you break out the squirt guns to clean off the chalk. Using a squirt gun works on strengthening the fingers, and uses visual motor skills to get the water stream to hit the chalk line. You can use the squirt gun on when using marker on a dry erase board too.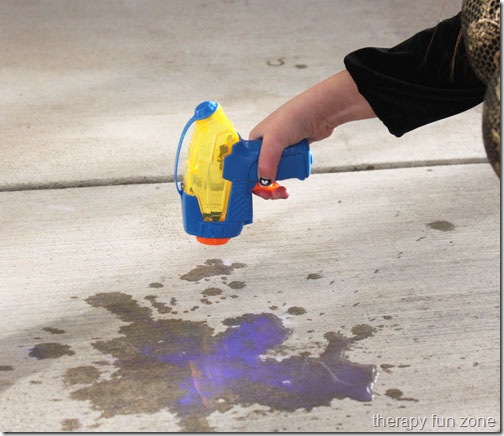 Materials:
Chalk
Squirt gun
Water
Writing surface (sidewalk, wall, chalkboard, mirror, white board)
Skills:
Fine motor
Finger strengthening
Visual motor
Range of motion
Lower extremity strength (squatting)
Balance

The following two tabs change content below.
Tonya is a pediatric Occupational Therapist, and loves creating things to work on skills and solve problems.
Latest posts by Therapy Fun Zone (see all)