from Your Therapy Source – www.YourTherapySource.com by Your Therapy Source Inc
Your Therapy Source posted an activity that came from an idea on Pinterest about changing up puzzles.  Basically, using any picture or text that you would like, you can create a twisting puzzle.  Go visit them to see how to do it.
from Notes from a Pediatric Occupational Therapist by Abby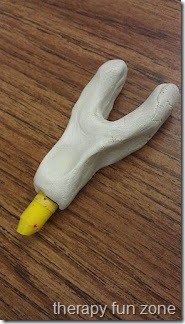 Abby showed how she adapted a crayon for a student with a poor grasp.  Go check it out.
from Starfish Therapies by Starfish Therapies
Starfish Therapies posted about making an owl out of torn paper.  Go check out the post.
from Embrace Your Chaos by dmoore
Embrace You Chaos posted about the ways to work on fine motor skills and 10 ways to use cotton balls.  A cotton ball is a great household item that can be used in many ways to entertain kids, while also working those little muscles in the hand, providing great sensory input, and challenging their creativity and motor planning skills.  Go check out the full post.
Looking to find printable activities? You can find them in the community shop



**** I often will link to things on Amazon. These are usually affiliate links that will pay me a couple of dollars if you happen to buy something while there. Any money made through the Amazon links goes back into this site and helps us keep it going. Thank You.
The following two tabs change content below.
Tonya is a pediatric Occupational Therapist, and loves creating things to work on skills and solve problems.