I wanted to play a game with a student that would use spring clips
in order to work on finger strengthening. I got little pom poms at michael's (a craft store), and we played the game of Mancala
.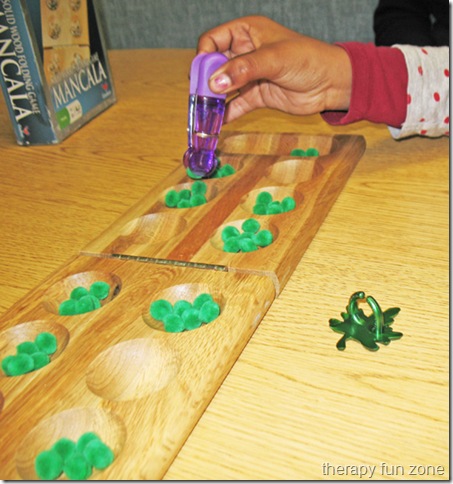 Her hands were quite tired by the end of the game. We will play some other games and see how many we can come up with that can be played with pom poms as the game pieces and use the clips to move them around the board. Checkers would work well, and Chinese Checkers
too.  Pinching the spring clip uses the muscles that are used to control a pencil during handwriting and the scissors during cutting.  It is important that these muscle are strong.
Materials:
Skills:
Hand strengthening
Fine motor
Finger isolation
Crossing Midline
Handwriting
Scissor Cutting
Visual Perceptual
Looking to find printable activities? You can find them in the community shop



**** I often will link to things on Amazon. These are usually affiliate links that will pay me a couple of dollars if you happen to buy something while there. Any money made through the Amazon links goes back into this site and helps us keep it going. Thank You.
The following two tabs change content below.
Tonya is a pediatric Occupational Therapist, and loves creating things to work on skills and solve problems.