Many kids benefit from using a chewy
as a calming activity, and to use as a replacement for chewing on things that are not good to chew on.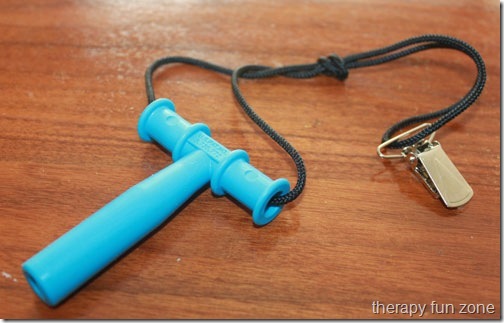 So if a child needs a chewy, they need to have it available to them. For kids who are lower functioning, they will not keep the chewy in their pocket and they will break or chew right through the retractable strings that some chewies come with. Some will tolerate wearing a break-away lanyard around their neck, but many won't keep on the necklace, and need to have it attached to their clothes.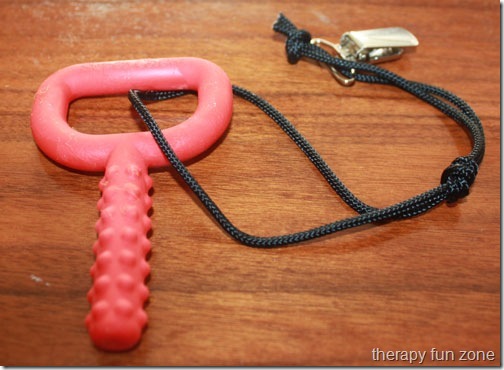 I have struggled to find a good attachment that is sturdy, doesn't break easily, stays attached, and doesn't ruin the clothes. I haven't found something I can easily order that solves all of these problems, so I got the parts on my own.
I got suspender clips
at the fabric store, and found some parachute cord there too. I have also used new shoe laces as the tie, and the office store has break-away lanyards with the name badges.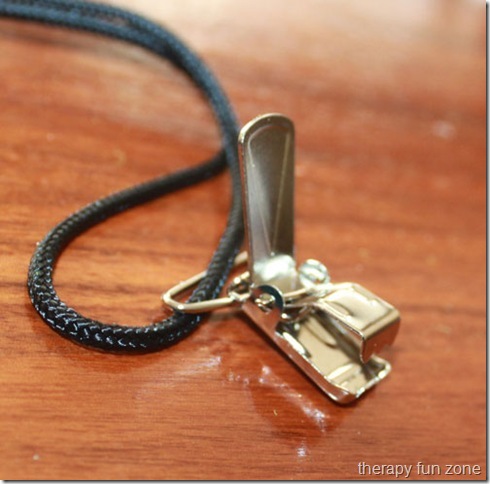 I just tie the cord/shoe lace onto the clip and then onto the chewy. I also then tie a knot in the string since I don't want any kids putting their heads through it, and it can help keep the chewy in place.
You can then attach the suspender clip to the student's clothes anywhere.
Materials:
Skills:
Looking For More? Try these categories
The following two tabs change content below.
Tonya is a pediatric Occupational Therapist, and loves creating things to work on skills and solve problems.
Latest posts by Therapy Fun Zone (see all)