The sliding glass door that is. With washable markers
 please. I will not be held responsible for the permanent marker on your walls.
Writing on a vertical surface is great practice because it puts the wrist into extension and strengthens the arm muscles. It is hard to work on using just your fingers though when using a vertical surface, so you won't be focusing on that dynamic tripod grasp.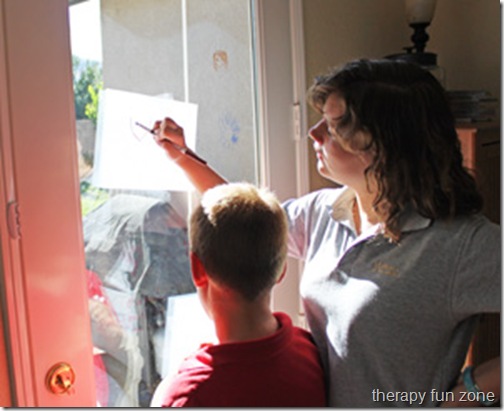 You can usually find a good surface to write on (just protect the rest of the wall) such as a sliding glass door, bathroom mirror, bathroom tiles (so maybe you're only allowed to color with markers in the shower), chalkboard
, whiteboard, and of course, an art easel
. You can tape a piece of paper up, or just draw on the glass because washable markers will wash right off.
Now get out there and start drawing on the glass doors.
If you want. Or not, your call.


The following two tabs change content below.
Tonya is a pediatric Occupational Therapist, and loves creating things to work on skills and solve problems.
Latest posts by Therapy Fun Zone (see all)