Today we have a guest post submitted by Barbara Bailey.  This is an activity that she has made, and uses in the winter.  Now here it is in her own words (and pictures).
This game works on visual memory and can be adapted to include a variety of gross motor challenges such as prone on scooter board.  I put the same design, dots, on one side of each mitten.  There are two copies of each pattern. Patterns can be graded by making them extremely different or by making them very similar .
To play the game, spread one set of mittens out on the floor.  Put the matching set together to make a "draw" deck and place it on the opposite side of the room.  The child picks a card for the deck.  Then, riding on a scooter board, looks for the matching mitten by flipping over each mitten.  Whether or not a match is found, the child should flip the mitten back to the dot side.  When a match is found, the child returns to the deck to pick another card.  By this time, the child has seen many of the cards and might be able to remember where the match is without searching.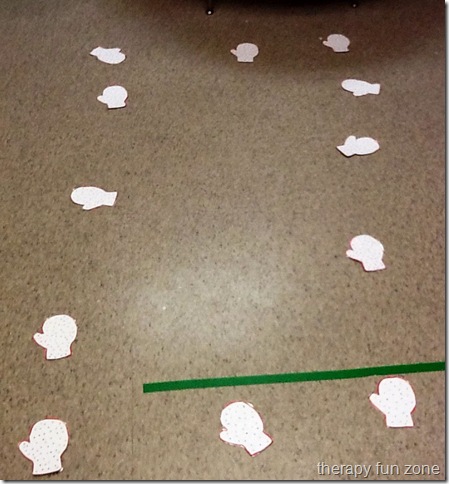 The child then returns to the starting point and picks another card.  This time, the goal is to try to remember where you saw the mitten match.  The game can be played in a variety of ways.  It can be played by one or more child.  I sometimes challenge the kids by "betting" them to find the match in 2 or less attempts.  The level of difficulty can be varied by the number and arrangement of cards.  I have also made similar games for other seasons or holidays.
Barbara made her mittens, so I made some as well, although I think that mine are a lot smaller.  I made them to all fit on one page.