OT Checklists and Management Forms
It is time to start back to school, so it is time to get the caseload organized and under control.  It is always a challenge to manage all of the evaluations and ieps, so I am always trying to work out a good system.  I have created some forms that help me, so thought I would share some of them in hopes that they would help you.  I have updated my fine motor evaluation checklist, and added some management forms.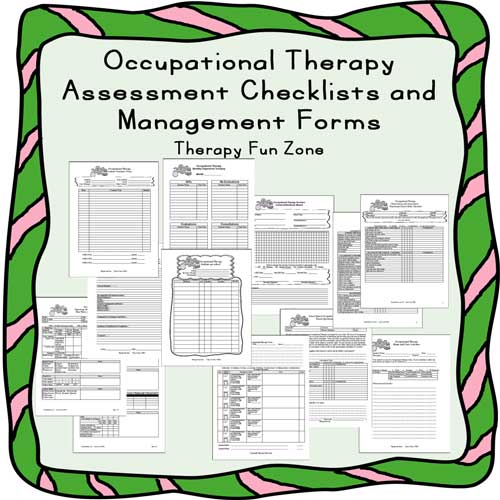 Some of the forms can be found here on the blog, but I updated and added more things, others are new and can't be found on the blog.  50 pages total, and some are both pdf and word document, some just pdf, and the evaluation write up is just a word document.  I have them all grouped together for sale in the shop.
You can download the students per school for free.  I use it to keep track of where the kids are at each school so that I can find them and know what class, teacher, and psychologist I need to find.
School OT Forms Included

School checklists and assessments
Fine motor and motor skills checklist (2 pages)
Fine motor assessment cutting (5 pages)
Fine Motor Assessment pencil   (2 pages)
OT fine motor handwriting   (4 pages)
OT functional school skills checklist (2 pages)
School ot parent questionnaire   (1 page)
Evaluation write up and template in word documents
ot eval template basic (6 pages)
OT eval Summary ideas (2 pages)
Standardized Assessments information ideas for writing (22 pages)
School OT management forms
OT completed iep tracking
OT Contact and Attendance Record
OT contact narrative note
OT equipment tracking
OT home and class program and observations
OT iep information sheet
OT ieps due per month
OT monthly paperwork tracking
OT Progress Notes pg1
OT Progress Notes pg2
OT referral intake form
OT Students per school
Save

Looking For More? Try these categories
The following two tabs change content below.
Tonya is a pediatric Occupational Therapist, and loves creating things to work on skills and solve problems.
Latest posts by Therapy Fun Zone (see all)