Very frequently, I draw a path for kids to follow with their pencil.  I often draw animals beside the path to make it fun and tell them they have to stay on the path so that the lion won't get them.  I have wanted to have some fun ready made ones, but they are hard to find.  Most things that I find are mazes, which are ok, but they aren't what I am wanting.  Another Occupational Therapist has a website called school-ot.com, and she has made some paths that she calls pencil obstacle courses.  Hers look really cool, and I decided to try my hand at making some of my own.  Here is Polly Pencil's Playground.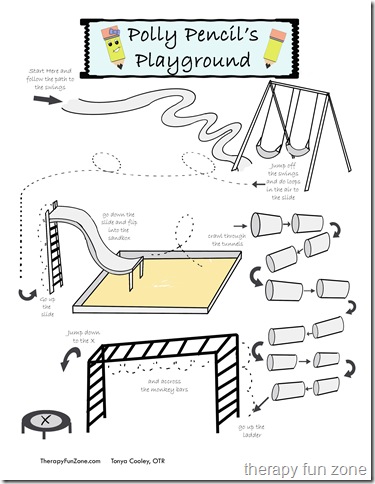 I think that it turned out pretty good.  It was a lot of work making it digital.  I drew it out first, scanned it, and then redrew it in photoshop, tracing over the original and changing it as needed.  Here is a PDF copy if you would like to print it and use it.  I have created more of these, and call them Pencil Adventures.  I am selling them in digital files.
Save


The following two tabs change content below.
Tonya is a pediatric Occupational Therapist, and loves creating things to work on skills and solve problems.
Latest posts by Therapy Fun Zone (see all)